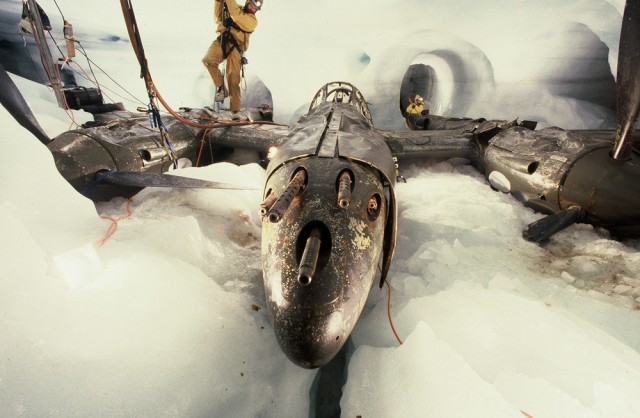 Digging down through 100 metres of ice to recover a Second World War aircraft is not something most people would want to take on, but that's exactly what Australian photographer Leigh Atkinson did when he answered a Facebook request for people to join an expedition to Greenland. "It seemed like a good idea at the time" said Leigh, who specializes in aviation photography and was one of a four-person team that set up equipment in preparation for the dig. "We were working up to 15 hours per day and then I'd head off exploring and photographing the island on foot during the evening light."
The plane in question was one of a flight of six P-38 Lightnings and two B-17 bombers which made an emergency landing on the ice whilst enroute to England from Maine. The aircraft were part of operation Bolero – a 1942 effort to get military planes into Europe from secret bases in northeast America. Encountering severe weather conditions, the crews decided to return to base, but thick cloud and depleted fuel supplies forced them to make an emergency landing on the ice. The men were rescued after three days, but the planes were abandoned. The aircraft were gradually covered with successive layers of thick snow which gradually compressed to form ice.
In 1992 a successful expedition managed to melt through the ice with heated pipes and steam to recover one of the P-38s. Known as Glacier Girl, that aircraft was badly damaged but, after a period of painstaking reconstruction by a dedicated team of restorers, it flew again in 2002. Glacier Girl is now on exhibit at an aircraft museum in Kentucky, the Brisbanetimes.com.au reports.
Leigh Atkinson found himself working in temperatures of minus 7°C and eating food rations that had been left by an earlier, 2011 expedition – food that was described by the expedition's organizer as 'less than gourmet'. Leigh returned home after four weeks, somewhat lighter but looking forward to the next trip.
On that expedition, ground-penetrating radar will be used to locate the aircraft beneath the ice. Hot water pipes surrounding a special device will carry out the melting process to create a deep shaft down to the buried aircraft. High pressure steam will then be used to melt out an ice cavern around the plane, so it can be dismantled and brought to the surface. Leigh has already volunteered to be one of the team which will descend the shaft to make the cavern.