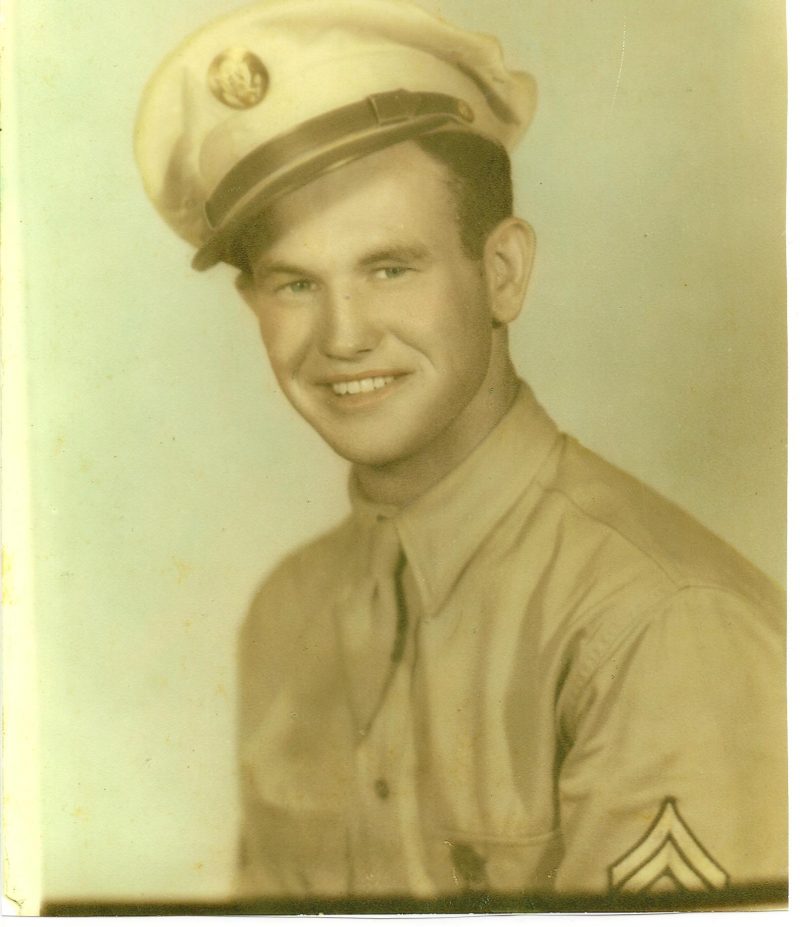 By Reg Jans-Battle of the Bulge Historian
After having served in the 667th FAB-Headquarters during the Battle of the Bulge and Rheinland campaign, Corporal E. Frank Sisson from Oklahoma City was promoted as a Line Sergeant and transferred to Berlin where he began working as an investigator for the Military Police.
Christmas day, 1945, would become one of the most memorable days of Frank's life…
"December 25th was cold and gloomy", remembers Frank. "Poorly dressed, the hungry people moved aimlessly about the snow-covered streets. Drawn in by the smell of roast turkey, mince pie and a host of other wonderful aromas, a small crowd of starving children had gathered in the snow outside of our GI-kitchen. I sat down at a huge table laden with the greatest Christmas dinner I'd ever seen, yet, just outside the door were hungry little stomachs, bloated by lack of food. To me although the dinner on my plate was fit for a king, the thought of those kids outside in the snow totally crushed any appetite I might've had.
Pushing aside the plate, I left the table and went to the Post Exchange and ask the cook to fix me as many hamburgers as he could get in two "peck sacks" and let me know as soon as they were ready. Pushing the snow from the curb outside our headquarters I sat down with the bulging sacks on my lap. Children came from all directions. I would give a kid a burger with instructions to sit on the curb and eat it. I told them in no uncertain terms, 'No, you can't take it home. You'll eat it right HERE and right NOW!!" Kids were sitting in the snow, all around me, laughing while stuffing their little faces with the delicious hamburgers. Soldiers, captains, majors and the company commander all walk passed and saluted me! Several even commented that seeing me there with the children was the best Christmas they'd ever have asked for."
In 1998 the Daily Oklahoman Newspaper decided to publish Frank's special Christmas memory after selecting it from dozens of other submissions. It was then that the story took a quite unexpected turn. "The very day my article appeared in that newspaper, I received a phone call from a man who enquired, "Are you the same Frank Sisson that wrote the piece in the paper about your Christmas in Berlin, Germany?" 'Yes' I replied, somewhat puzzled? What that guy said next completely knocked me for six…"I'm from Berlin and visiting friends locally here for the holidays. I was reading the newspaper this morning while we were gathered around the breakfast table, when your heartwarming article grabbed my attention. We all cried as I read it out loud to my friends. For you see sir, I've heard your Christmas story ever since I was a child, because one of those little boys sitting in the snow beside you on that Christmas day, was my father…and I thank you so very, very much for what you did." I was so shocked, so stunned and so speechless, that I didn't get his name or his address for that matter…and could only blurt out the words 'God bless you son!"'
To learn more about Battlefield tours then please visit www.regjans.com