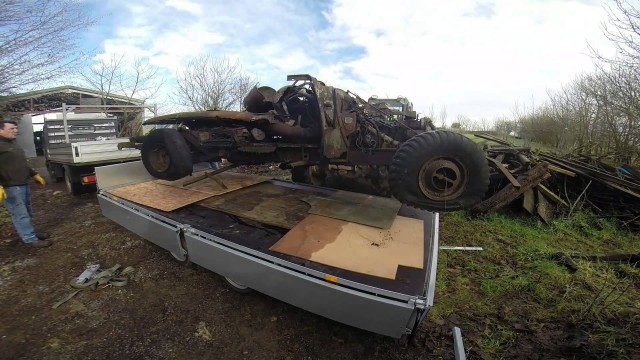 The 1940 Humber Snipe was rusting in Andy Stevens's shed in Bodden. Andy Stevens is a conservation stoneworker with a huge interest in military vehicles. In 1983 he found out a shed had fallen on the Humber Snipe in Croscombe, so he decided to take the vehicle with him and try to fix it, but he never found the time to deal with it.
After 30 years, the rare vehicle has found a new owner, another military enthusiast from Honiton, roofer Alec Small. When asked about it, Andy Stevens said the vehicle has been in a very bad state of repair. When he worked at Taunton castle, he was lucky enough to get talking to a Military Vehicle Trust member with interest in military vehicles.
After discussing the purchase of the vehicle with Mr Small, Mr Stevens offered to hand it over at no cost but Mr Small insisted on paying him back. Mr Stevens apologized for the very bad state of the Humber Snipe but he said he is really happy somebody can finally use it. The machine is quite rare and according to its previous owner, it might have spent some time in Cyprus during the Second World War, where it served as a radio vehicle.
"It is the same sort as General Bernard Law Montgomery's, though his was a convertible," said Mr Stevens, who is now trying to restore a 1940s Austin K3 lorry, which has been in his family since the 1950s, when it was purchased by his grandfather.
Before deciding what to do with it, Mr Small has asked for a quote to see how much it would cost him to repair the wooden frame. He found out there are only five vehicles of this type registered in the world and his is one of them, while another has been located in Cyprus. In perfect condition its value would go up to £15,000, the WELLS Journal reports.
Mr Small's little hobby began years after the end of the War, when a friend of his told him he'd bought a Second World War Jeep. They went out on a ride and somebody asked them if it was for sale. Then he decided to buy a Second World War Ford Jeep. And then he kept buying them over the years.
He believes the 1940 Humber Snipe served in the Middle East and if he can't find a way to restore it, he would still keep it, as part of his 4×2 Humber collection.