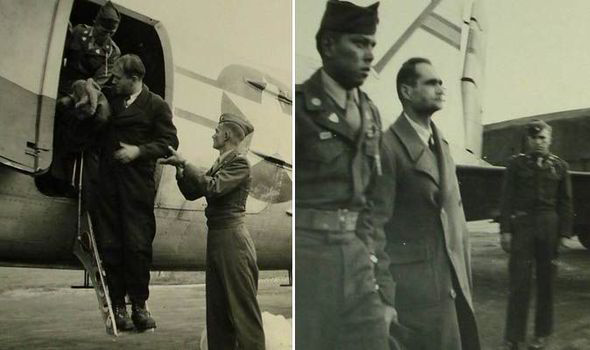 Photos of some of the infamous Nazi war criminals in chains after WWII ended, part of a collection of a British army officer, have emerged for the first time.
The shots showed some of the notorious henchmen of German dictator Adolf Hitler like Albert Speer and Rudolf Hess in chains being led off a plane in Berlin in 1946; the photos were taken after the end of the Nuremberg War Trials.
The said British officer who owned these pictures of Nazi key members being handcuffed to guards was Brigadier Geoffrey Ingham. He took them while he was assigned as in-charge of prisons in post-war Germany.
Aside from Hess and Speer, Ingham also took photos of other Nazi officers including Admiral Karl Von Doernitz who succeeded Hitler after his suicide.
The photos, in black and white, were part of Mr. Ingham's collection which were brought to light for the first time on their impending auction at Devon.
Brian Goodison-Blanks of the Bearnes Hampton and Littlewood auctioneers stated that the said photos fo Nazi war criminals in chains provide a very interesting glimpse at the career of the British brigadier who once owned them.
He further added that one of the main features of Mr. Ingham's compilation is a photo of Albert Pierrepoint, a famous British executioner who was responsible for hanging hundreds of Nazi war criminals after WWII.
Mr. Pierrepoint's picture had this annotation in Mr. Ingham's handwriting: "He hanged nearly 300 war prisoners for me."
"Ingham oversaw and dealt with all the prisoners of war after World War Two had ended.

He also dealt with transporting the Nazi war criminals to prison after they had been sentenced.

But the highlights are the photograph of Pierrepoint with the handwritten annotation and the seven major Nazi war criminals at the airfield from Nuremberg.

"Many collectors would be delighted to own such a find," Mr. Goodison-Blanks commented.
Hess, one of the Nazi war criminals in Mr. Ingham's photos, was found guilty of crimes against peace and was given a life sentence. He served this at Berlin's Spandau Prison. However, he committed suicide while serving that said sentence in 1987 – he was 93.
One of the other Nazi war criminals, Speer, was sentenced to 20 years in prison for the role he played during the reign of the Nazi regime. He died shortly after his release in 1981 – cause of death: natural.
Mr. Ingham, born on 1897, served in the West Kent Regiment during WWII.
He was also assigned in the Central Commission in West Germany as Controller-General of the Penal Branch.
As a Military Police member, he was given charge for 250 prisons with a total of about 40,000 prisoners. It was during this assignment that he took these incredible photos of handcuffed Nazi war criminals.
He left his photo collection along with his war medals – GV Defense and Victory Medal, India General Service medal with Waziristan bar and the 1939-45 Star for his services, GVI Defense Medal and War Medal with oak leaf, 1953 Coronation medal and corresponding miniature – to his nephew upon his death in 1971.
His album of photo collections during his career in the British army along with his medals will go under the gavel February 19 and would have likely fetch up to £700.