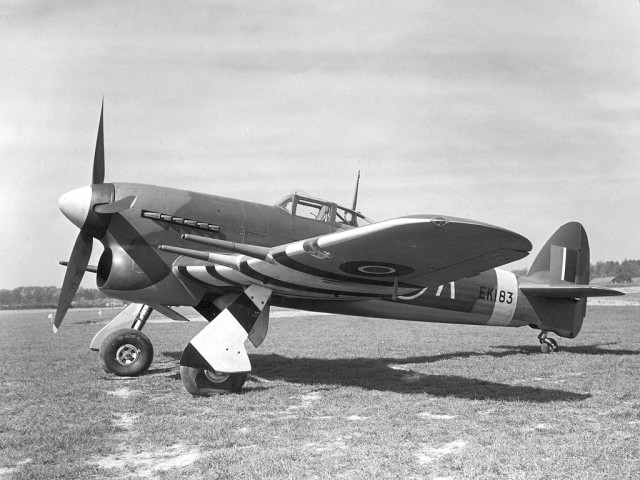 The last remaining Hawker Typhoon was an important piece of resistance in the invasion of Normandy, on June 6, 1944 and is now set to appear on display at the Aviation and Space Museum, to mark the 70th anniversary of the D-Day landings.
During its service in the Second World War, the Hawker Typhoon  took part in numerous operations, most importantly in Normandy, and were piloted by many Royal Canadian Air Force squadrons, including the 440 Squadron based in Ottawa, the Ottawa Community News reports.
The aircraft is on loan from the Royal Air Force Museum, making it "an important collaboration between two national museums," said the director of the aviation museum, Mr Stephen Quick, who believes that through this collaboration, people can see this two nations reunited, as they war during World War One, "when young Canadian and British pilots flew together and tamed this wild aircraft."
The representative of the museum said that this is also a special occasion for the Royal Canadian Air Force, who also celebrate their 90th anniversary this year. It seems it is a great opportunity for Canadians to have access to this fantastic WWII aircraft and to hear the incredible stories and understand the importance of having the Hawker Typhoon as a wonderful gift from the Royal Air Force Museum.
Peter Dye, director of the Royal Air Force Museum in London said he feels honoured to assist the aviation museum in their efforts to remember the thousands of Canadian airmen who flew alongside the Royal Air Force in both the First World War and the Second World War.
"We are also delighted to be able to recognize the invaluable support that Canada has played in helping to train British aircrew over the past century," said the director. He hopes that the loaning of the  Hawker Typhoon MN235 will give back at least a tiny part of the "debt owed" following the end of the war. Thousands of Canadians who served with the Royal Canadian Air Force were lost in the war.
For many years, the Hawker Typhoon MN235 was housed by the Smithsonian Institute, before being returned to the Royal Air Force Museum, in 1968.
//