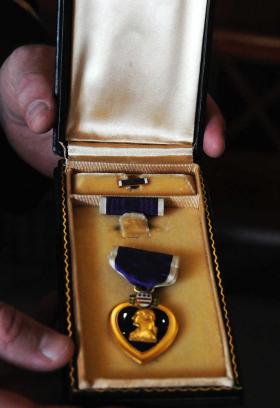 Savannah Now shares the story of a Purple Heart medal that was awarded to an Army Air Corps second lieutenant who was killed almost 70 years ago during a mission over Berlin.
On the morning of January 9, 2014, Army Captain Zachariah Fike presented 2nd Lieutenant Glenn Morris' Purple Heart to the National Museum of the Mighty Eighth Air Force. The museum was the best choice Fike could find for the medal. Morris, although was killed in a plane crash on March 22, 1944.
"These medals belong with either these heroes' descendants or, at the very least, in a place of honor," said Fike, who founded the nonprofit organization, Purple Hearts Reunited, about two years ago. "His family is not with us anymore, so we wanted to bring it to a place of honor, and this most certainly is a place of honor."
Since 2012, the organization has returned more than 60 lost Purple Hearts to family members or donated them to museums. Fike, a 15 year veteran who is now serving with the Virginia National Guard, received the Purple Heart medal when he was injured in Afghanistan in 2010.
"I don't believe these medals should be floating around on the market and ending up in private collections," he said. "That's not what they were intended for. These men died for us, (their medals) shouldn't just be sold. We need to make sure they are never forgotten and that they are honored for their service and sacrifice."
Vivian Rogers, the director of the museum's research center accepted Morris' Purple Heart.
"We're honored to have this Purple Heart dedicated to us today," Rogers said. "This museum was established by men … who served in the Mighty 8th Air Force in World War II and was meant to be a place to make certain that the service, sacrifice and valor of those who served in this storied unit in World War II are never forgotten."
To Vivian, she felt the Purple Heart will become part of the Mighty Eighth's soon-to-be expanded POW exhibit.
Fike said that the Pooler Museum was a better fit for the once lost medal than he expected. ""This is the by far the best museum I've ever been in. The tour was like life changing for me. As a soldier and warrior it really touches me deep inside just to take a look at what these folks went through and the sacrifices they made for all of us. I'm extremely happy to know this Purple Heart will remain here for a long time."