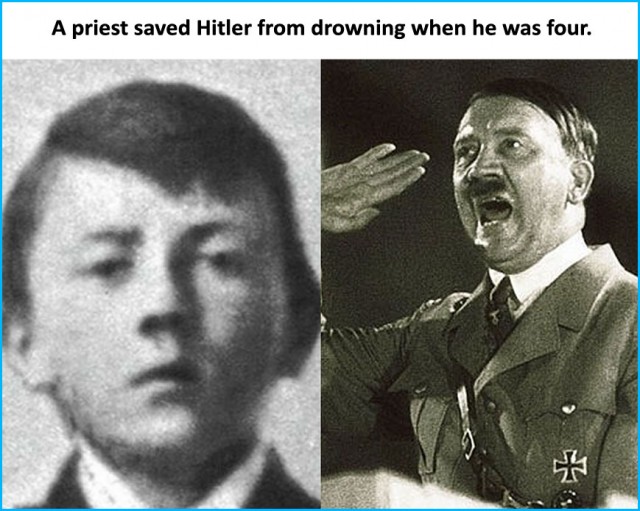 The newspaper article, depicting the story of a four-year-old boy who was saved from drowning, perhaps one of the hardest to accept act of mercy in history, has recently been brought to light.
After analyzing the newspaper article and hearing the opinion of historians across the world, the little boy is believed to have been Adolf Hitler, who was plucked from an icy River Inn in Passau, Germany, in January 1894.
Max Tremmel, a priest and famous European organists says his predecessor Johann Kuehberger was the man who saved the little boy from drowning, when they were both children. Father Tremmel said, just before he passed away in 1980, how Father Kuehberger was a child just like Adolf Hitler, when he saw the boy struggling in the icy waters of the River Inn and jumped right in to save him.
Although the story has never been confirmed by Hitler while he was alive, the 1894 Donauzeitung – Danube newspaper has come to light to reveal the incident. It tells the story of a 'young fellow' who fell through the ice of the River Inn in January 1894 and a brave comrade jumped into the frozen waters to save the kid who was to become the biggest monster in history.
The same story was featured in  Anna Elisabeth Rosmus' book, Out of Passau- Leaving a City Hitler Called Home.' In her passage she wrote about the banks of the River Inn, which were perfect for children to play around. She mentions how in 1894, while the children were playing in Passau, 'Adolf fell into the river.' She wrote that the water was freezing cold as it was flowing straight from the mountains but Adolf was lucky enough that the son of his house owner, was able to pull him out and save him from drowning, the Mail Online reports.
As a young man, we think Adolf Hitler would have told this tale to his fellow comrades and officers, however, it was never mentioned by him during his lifetime. It wasn't the same situation in Passau, where everybody already knew the story and several other, including the fact that he did not know how to swim and that he needed glasses.
Although no name was mentioned in the newspapers, historians believe Father Tremmel's claim that the child was indeed Adolf Hitler.
A radio programme will feature the story later this month and several residents of Passau will be invited to confirm that they heard the story of the young comrade who almost died drowning in the icy waters of the River Inn.