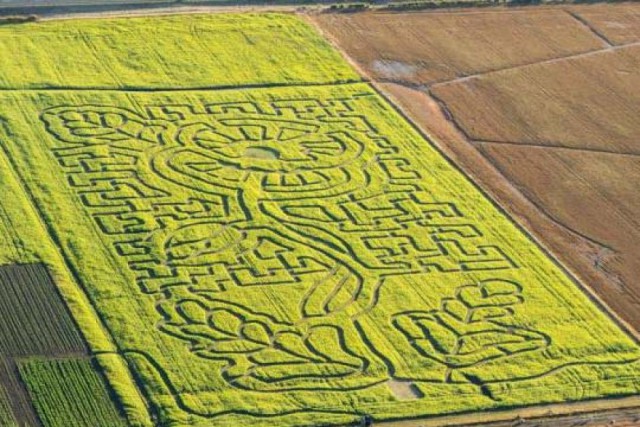 In commemoration of the centenary of World War One and the 70th anniversary of World War Two an Australian farming couple have created a maze in one of their crop fields in the shape of a poppy.
The couple, Anna and Rowan Clark own a farm in Hagley in Tasmania, south of Australia. The couple used a field of sorghum to carve out the poppy shaped maze in memory of all those who gave their lives and fought in the World Wars.
In particular they say that it is to commemorate the Australian and New Zealand troops or ANZACs as they are known locally.
The couple's main crop is poppies which are a fitting memorial to those who fought since poppies are also used to commemorate the wars every year on Remembrance Day in Europe. Ever since the Napoleonic wars poppies have naturally grown through the devastated countryside that has been affected by war.
The couple are still waiting for the crops to grow high enough for the maze to be suitable for visitors. They are hoping it will grow to reach about eight foot high. The maze was designed using GPS technology and actually created using a sit-on lawnmower, The Telegraph reports.
This isn't the first time the farmers have had mazes in their crop field. Last year they created a Tasmanian tiger maze to highlight the animal's extinction over 80 years ago. That maze required animal experts and historians to help design the maze correctly, and once opened to the public was visited by more than 2000 people.
The maze will be open from the end of February, even though it won't have reached full height by then. Rowan says that it should be between four to five feet high and then will continue to grow during the four weeks that the maze will be open to the public.
The couple at Rupertswood Farm are hoping visitors will be challenged and entertained by the maze, since they have not only created a commemoration to the wars' fallen soldiers, but also a real-life maze that will have visitors lost for hours in its hidden lanes and passageways.