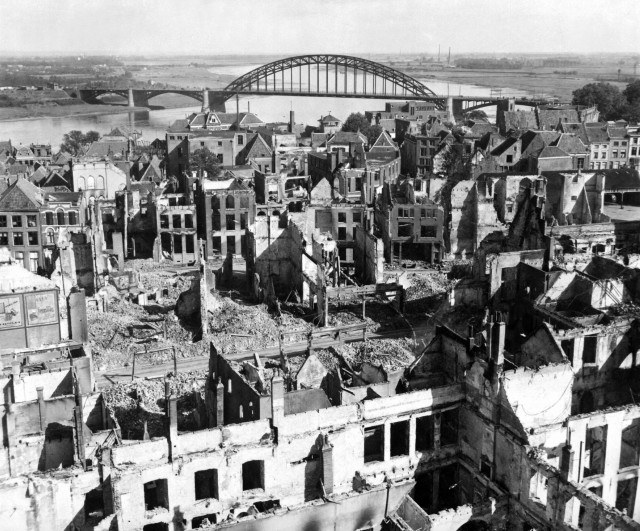 Nijmegen, a city in the east of the Netherlands bordering Germany, is looking to commemorate 70 years since the end of World War Two with a plaque on a newly built bridge.
During the war, Allied paratroopers were dropped near Nijmegen in September 1944 in order to capture bridges from the Germans and make their way on into Germany. This was immortalized in the 1977 movie 'A Bridge Too Far'. The movie starred Sean Connery, Ryan O' Neal and Michael Caine, and was directed by Richard Attenborough. The bridges were finally captured after a daring daylight assault river crossing by US Paratroopers.
Now the city has had a new bridge built called De Oversteek (The Crossing) and many local citizens are calling for a plaque to be placed on the pedestrian section of the bridge. Thousands of people cross the bridge every day, but few realise or remember that a vicious battle took place there in 1944, and that almost 50 American soldiers were killed.
Nijmegen's city Mayor Hubert Bruls has called for the plaque to be placed on the bridge as soon as possible, even as soon as May, in time for the commemorations.
Today, 70 years after the event, a small group of war veterans from Nijmegen walk across the bridge at sunset every day in commemoration of the soldiers who made the ultimate sacrifice. The group walk with family and friends to remember and honour all of the soldiers who lost their lives during the war.
The original operation of the troops marching across Europe was called Operation Market Garden, the NL Times reports.
The operation lasted from 17th to 26th September 1944 and was an unsuccessful attempt by Allied forces to gain entry into Germany through the Netherlands and via the Lower Rhine.
The operation required the Allied troops to take control of the bridges across the Maas river, Waal River and then finally the Lower Rhine. This would enable the Allies to capture Germany's Ruhr district which was its industrial epicentre.