The three Whiteford brothers and their one photo equates to an incredible story during the World War I.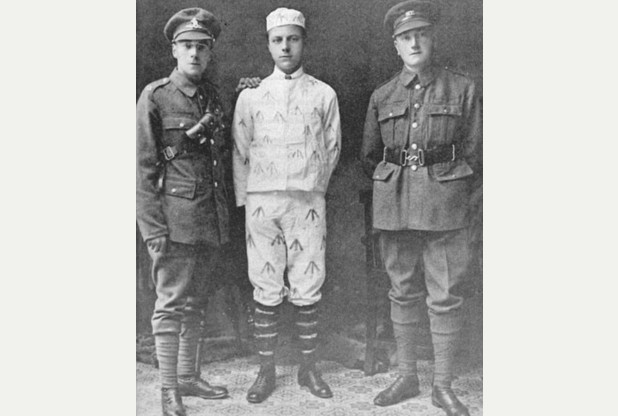 Who would have known one war could bring three different fates for three brothers? The Great War did for Wilfred, Graham and Hubert Whiteford and the photo above tells their story.
When WWI broke out, these three brothers from St. George, Bristol, came to three different decisions which led to their individual fates.
One brother, coming to the decision that fighting for his country was his responsibility, enlisted in the Army so he could participate in combat.
The second brother wanted nothing to do with the fighting. Instead, he felt that caring for the war's wounded was greater than wielding a gun. So, he signed up for the Non-Combatant Corps and readied himself to do ambulance duty. He actively participated in war but he did so without the use of guns.
The third brother looked deep into his conscience and came to the conclusion that he was a pacifist. He didn't want anything to do with WWI for some political reasons so he decided not to serve – with arms or without arms. Conscientious objectors like him  were imprisoned and he was sent to Horfield Jail.
Their father, equally proud of the decisions the three Whiteford brothers reached on their own, had the photo taken. In the photo it can be seen that the two brothers had WWI uniforms on – one had a gun strapped while the other didn't – and the third brother was in mocked-up prison clothes.
If you think the third brother escaped the harsh realities of the WWI in trenches, it must be remembered that conscientious objectors during those times were treated harshly. They were either subjected to diets that would nearly starve them to death, doing hard labor while in prison or put up in solitary confinement.
The extraordinary story of the Whiteford brothers told through this black-and-white photo is just one of the many Great War experiences involving the locals of Bristol.
In 1973, the Whiteford brothers' photo ended up in the hands of Bristol-based writer and director Colin Thomas. The photo was given to him by Ron Whiteford who was the son of the conscientious objector among the three brothers, Hubert. It was then published in Mr. Thomas' trade union's journal to go with an article he had written.
However, since Ron Whiteford died shortly after handing the photo to Mr. Thomas and search through local records about the brothers turned up sparse results, little is known about what happened to the three during and after WWI.
Mr.Thomas has also been unable to trace any descendants of the Whiteford brothers. It seems all the legacy they left is what is seen in this WWI photo.
– As reported by Bristol Post and Western Daily Press with additional information from Remembering the Real WW1 and You Tracker