One month after the 2016 Olympics, the Paralympic Games began in Rio. Around 4,350 athletes from over 160 countries participate in almost two dozen sports.
The roots of the games can be traced back to an archery competition between sixteen British WWII vets at the Stoke Mandeville Hospital in 1948.
Sir Ludwig Guttmann, a German neurosurgeon who fled Nazi Germany and left a job at Oxford to become the head of the National Spinal Injuries Center at Stoke Mandeville, was the mastermind behind the event. The hospital opened in 1944 to offer care to service members and civilians with spinal cord injuries received during the war.
The demonstration of his patients' athletic abilities was part of his emphasis on a rehabilitation strategy that focused on helping patients regain their strength, even if they would never walk again.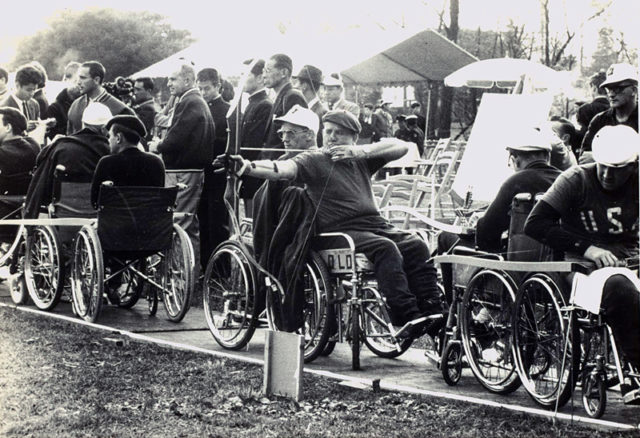 Before this new emphasis, patients with spinal injuries would linger a few weeks to a few years and then pass away, typically from sepsis and kidney failure.
Archery was a strategic choice for the athletic competition. It uses the upper body capabilities of the patients, but it was also a sport that paraplegics had no disadvantage, compared to people without injuries. In later years, teams from Stokes Mandeville would visit non-disabled archery clubs to compete – helping to change public perception of what disabled people could accomplish.
The "Stokes Mandeville Games" grew as patients and doctors moved to units in different facilities and after related research was published in The Cord, a medical journal of the time. In 1952, Dutch veterans participated, making the games international for the first time.
In 1953, Time magazine covered the competition. The games were attracting 3,000 in the audience to watch 200 athletes from 8 countries. The sports included netball (similar to basketball), snooker, archery, table tennis, javelin, shot put, and swimming. While the original games took place during the 1948 Olympics, scholars debate whether that was intentional. The first time the games were intentionally held parallel to the Olympics was 1960 in Rome. At that time, 400 athletes participated from 28 countries. The first winter games were held in 1978 in Sweden.