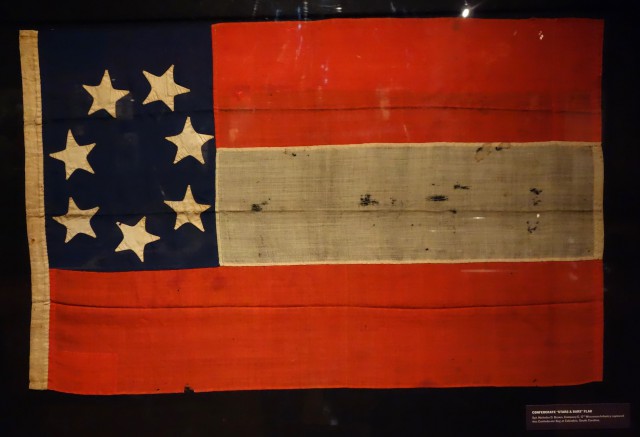 A Confederate "Stars and Bars" flag, captured by soldiers of the Union Army at Columbia, South Carolina. Via Wikipedia.
The Confederate flag is raising more and more controversy in America's south, as memories of Civil War and slavery mar the present day.
Fort Worth in Texas has a Civil War museum that holds the artefacts and history of the south, including original Civil War flags.
Many families who live in the south are descendants of people who fought in the Civil War, as well as African Americans who were slaves at the time of the Civil War. One local family, the Stevens, can trace their family back to Confederate General Beauregard who ordered the attack on Fort Sumpter, which initiated the war.
The museum at Fort Worth has a large collection of flags which are causing controversy today. The Stevens family says the flags fly all over the south, but they say that they never feel offended by them. They say that all of those who fought during the Civil War deserve respect no matter what side they fought on.
The museum's director, Cindy Harriman, says that the debate about flags is more poignant than ever right now. Coverage of violence and killings taking place in America over extreme Confederate beliefs has been shown all over the world. Most recently a young gunman killed nine people at a bible class in Charleston, South Carolina.
The museum houses some of the most important flags in American history such as the Confederate flag that was flown by Lyndon Johnson's ancestors who fought in the 26th Texas Cavalry, the WFAA.com reports.
Another flag is the General Hood, after which Hood County was named. The General Hood flag was wrapped up and buried in the ground for 10 years for its own protection. It was eventually dug up and given to authorities for preservation.
Other artefacts at the museum include flasks, bullets and shells, medical implements and uniforms. The museum is home to General Grant's blue field coat, which still has stars on the shoulders. It is believed that General Grant wore the coat during the surrender at Appomattox. A half smoked cigar is also on display, thought to be one of General Grant's.
The Fort Worth Civil War Museum is open Tuesday to Saturday from 10am to 5pm.