War History online presents this Guest Piece from Drew Hannen
Operation Dick Tracy took place towards the end of World War Two (1944 – 45). Foreseeing an imminent collapse of Nazi Germany, Allied commanders seized large quantities of cartographic materials and aerial photographs. It was quickly realized by the Allied Forces that the Luftwaffe had much more advanced aerial photogrammetry techniques. Faced with the possibility of losing such information to the rapidly advancing Soviets on the Eastern front, Operation Dick Tracy was of paramount importance, considering the geopolitical divisions of an eventual post-war Europe.
The Objective: Photogrammetry and Maps
Photogrammetry consists of the science of making measurements from photographs and is particularly useful for recovering the exact positions of points on the ground. In brief: If the scale of an image is known, you can measure the distance between two points that lie on a surface plane that is also parallel to the photographic image plane. This technique would have been extremely important before the invention of satellite imagery, allowing the Luftwaffe to make accurate maps and target dossiers for the Wehrmacht.
German World War Two aerial photography taken between 1940 and 1944 spanned much of Europe, from Great Britain to the U.S.S.R. and the Ural Mountains, as well as many areas of North Africa and the Middle East. Coverage of these aerial photographs is especially good for Eastern Europe, including Poland, Czechoslovakia and the former Soviet republics of the Ukraine, Belorussia, Lithuania, and Latvia.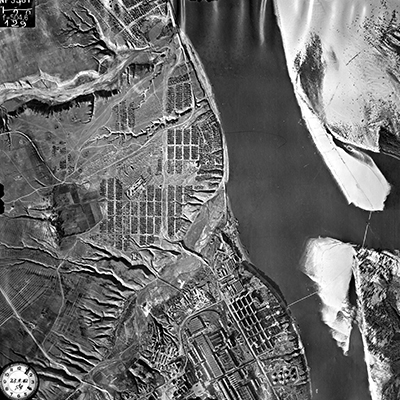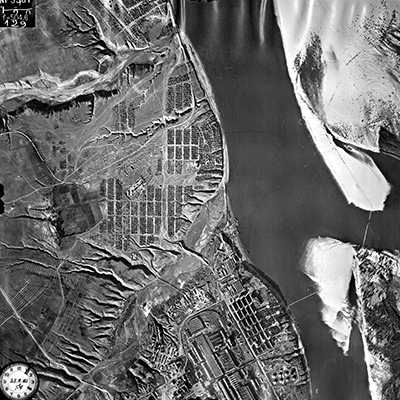 Allied aerial photography varied from the Luftwaffe as areas of allied interest were determined by strategic importance such as industry, infrastructure, and civilian centers. Large-scale bombing conducted by Allied Forces was known to have a high degree of collateral damage and would have been exacerbated by the less accurate Allied techniques. Luftwaffe pilots and aerial photography techniques were perfected by the Luftwaffe as they enjoyed air superiority over much of mainland Europe and parts of the USSR during the early part of the war.
It is not uncommon to find notations and symbols on German aerial photos, as much of the information would have been rapidly relayed to the Wehrmacht officers running military operations in the various theaters of the war. As part of Operation Dick Tracy, approximately 1.2 million aerial photographs were recovered by members of the Allied Forces and attributed to whichever ally found the assets first. Most of the images are now archived in the United States and the United Kingdom.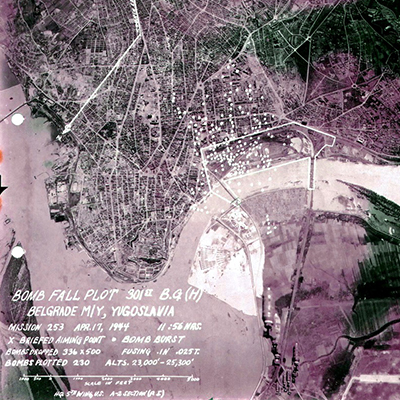 Modern Uses for Historical Aerial Photos
The information provided by this vast amount of aerial imagery of Europe and the Soviet Union recovered through Operation Dick Tracy, became a key intelligence resource for much of the Cold War. The Luftwaffe had done much of the dirty work for the Allies and future NATO.
Though much of the maps were made for war, they can also have contemporary applications. For example, some of the civilian applications of the maps and content include:
Educational use:

Creation of timelines to help organize aerial images, and compare them to battle timelines;
Creation of electronic versions of these records to broaden their accessibility.
Authentication of historical events based on detailed aerial imagery, which can be used to verify generalized battle maps.

Environmental applications:

Potential clues to environmental damage caused by significant impact on lands found in the areas covered.
Analysis of aerial photography can help the process of locating zones with explosives and can enable specialists to excavate, make safe, and dispose of unexploded ordinance.

Economic impacts:

Provides companies, local governments, private citizens with historical data to analyze potential land-related issues (ex: environmental damage, previous land-use, and the potential presence of explosives), that may affect decision-making processes on various levels.

Entertainment Industry:

Verification of landscape and historical accuracy for a variety of uses such as films, video games, and television documentaries.
Although there are many potential uses of these historical aerial photographs, the limited availability of funding may restrict the capacity of academic institutions to further these applications. But a concerted effort by citizen researchers and hobbyists will undoubtedly allow this information to be accessible to those who share a common curiosity and are interested in pursuing its potential applications. In addition, World War Two veterans represent the last link to a living memory of events that took place and are captured in these aerial photographs. As time passes, their knowledge will slowly be gone forever.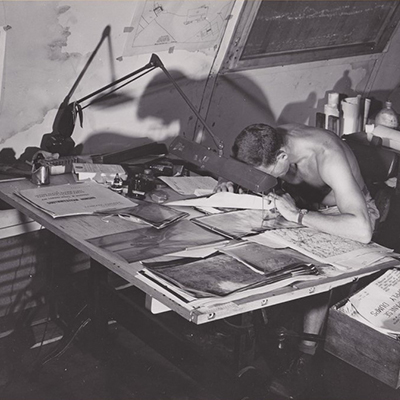 Conservation and dissemination
Luckily the aerial photographs of World War Two have been diligently detailed in finding aids and supporting documents (text, additional maps) in large part due to Operation Dick Tracy. Copies are publicly available at the National Archives and Records Administration (NARA) and the Library of Congress (LOC). Furthermore, outside of the United States, archives in various Commonwealth countries have been the custodians of such information. However, reduced budgets for archival work as well as commercial digitization efforts related to these collections have limited the accessibility and availability of these photographs. Much of this history could be forgotten forever.
To conclude, I leave you a quotation that is a reflection of how knowledge and history should be made accessible to academic and citizen researchers:
"Our information papers and subject guides demonstrate that Federal records provide researchers with valuable information on a range of topics far broader than the history of the Federal Government. We are pleased to be able to make this rich resource available to researchers."
-Don W. Wilson, Archivist of the United States-
Drew Hannen is a guest writer for Outdoor Mapping Company and a personal colleague of the site owner Nathan Kehler. He runs the Instagram profile @HeritageMaps and has an extensive list of posts covering all aspects of conflict mapping. Drew is a GIS consultant who operates his own business providing expert cartographic advice and GIS analysis. Drew is also an avid history buff and is currently working on an exciting venture with Outdoor Mapping Company. 
Instagram: @heritagemaps
All photos provided by the Author.