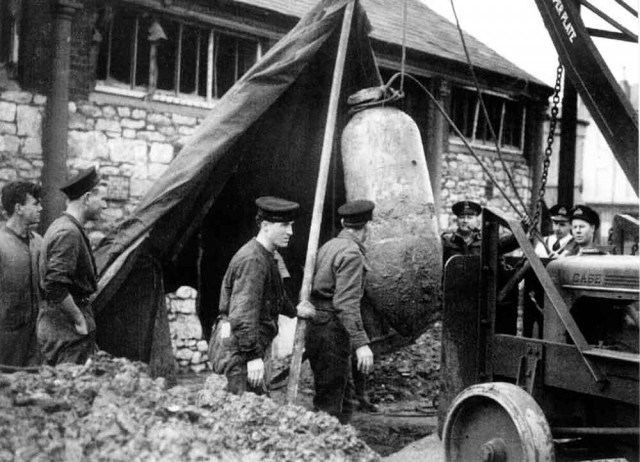 The last surviving founding member of the British Army's World War Two bomb squad has reached the age of 99.
Captain John Hannaford lives in Bexhill-On-Sea in the UK and was lucky enough to survive the war and beyond as part of the Army's bomb squad, even though their life expectancy was just 10 weeks given the dangerous nature of their job.
John received hardly any training, but went ahead and did his job without a second thought. John remembers how some of the situations he got into would make his heart beat very fast and he would sweat profusely until the job was done. John says that every time he was sent in to shut down an explosive device he thought he was going to die.
One job he remembers in particular was when he had to defuse a bomb in a water-filled crater. He had to work under the water when he heard a loud bang and a flash, he thought he had died. But it was a hose coming free on the pump which caused it the bang.
During the Nazis' Bombing of the UK thousands of bombs failed to explode or were equipped with a timer and were found throughout the country's cities, towns, villages and in the countryside.
John says that he had no previous experience and he was only told of his new role via a notice pinned to a noticeboard at his barracks.
He says they must have defused hundreds of bombs and the entire squad risked their lives every day. Of his survival, John believes that he was just plain lucky, especially since so many of his fellow soldiers died, the Mirror reports.
This year is the 75th anniversary of bomb disposal being part of the military discipline and it will be commemorated by a service at St Paul's Cathedral, which will be attended by Prince Harry. St Paul's Cathedral itself was saved by the British Army's bomb squad in 1940 when a more than 4,000lb unexploded bomb was found at its steps.
After the war John went on to become an architect for the British Government. He still to this day does not know why he was chosen for the bomb squad job during the war, while his other trainees were sent to be engineers and road builders.
Today, bomb disposal is still a risky business even though the Army recruits automatic robots and the latest technology to assist with the process. In John's era all they were armed with was a stethoscope, leather gloves and a toolbox with a hammer and chisel.