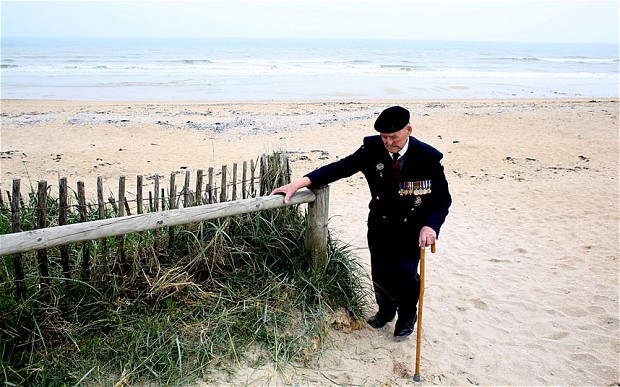 This year will mark the seventieth anniversary of the Normandy invasions of World War II, and as such there are numerous events planned to commemorate the battles on June 6th. Unfortunately, those who wish to return to the sites where they risked life and limb to be honored this coming June have now found themselves faced with a new enemy: extensive paperwork. These veterans must quickly fill out long forms or else will not be able to return to Normandy for the anniversary proceedings.
Some veterans consider the documentation to be something of a slap in the face, especially as it asks them to detail how they lent a hand in the invasion. This is apparently not the first time that Normandy veterans visiting France have been treated in a manner which they found offensive. In the past, they have been denied curbside drop-offs at local hotels, even those needing the assistance of a wheelchair. The documents have been required by the Ministry of Defense, so there is absolutely no skirting their completion.
The most pressing issue of the form requirements is that the deadline has already passed, meaning some veterans may have already missed their chance. While some may hope that they would be granted access anyway, but this is only possible now if applying under direct government supervision. The unfortunate nature of this treatment is compacted by the fact that the Normandy Veterans' Association will be disbanding later this year, meaning that this will be the last commemoration ceremony for many of the veterans involved. The youngest among them is already 89 years of age, the Mail Online reports.
The forms may also be limiting what those who have already registered are able to do on the day of the event, as they are required to detail the entirety of their plans in Normandy, including which commemoration services they will take part in. This has put some strain on the veterans who plan to be in attendance, as the requirement of the forms was not introduced until shortly before their deadline.
While Normandy veterans do not appear to be receiving a due level of respect, some citizens outside of France are trying to limit anti-French sentiments that may arise as a result of the form requirements. France was, after all, an Allied force during the Second World War. Many veterans are still disappointed, however, noting that they were much more easily received in Normandy when they were there potentially to die rather than to honor the fact that they survived.