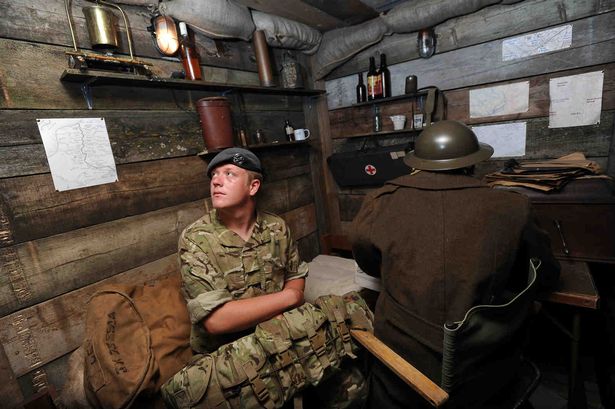 A new Barry Island exhibit has been created to allow visitors a view of what the First World War was like for those who experienced it from the trenches. Although it is impossible to truly experience such a sensation without being mired in actual trench warfare, the exhibit still does its best to capture the life of a WWI soldier. The exhibit is located at the Barry Island railway station.
At this station, visitors will find the Glamorgan Wartime Heritage Centre. This is where visitors will find the exhibit, aptly named "the Trench." This is not a place to see high loads of action and gunfire, but rather a place to see what life was like when soldiers were simply waiting for their next big assault to begin. Visitors to the Barry Island exhibit will be exposed to extremely close quarters, in which they will see one or two soldiers quietly and hesitantly passing the time. There are a few supplies attached to makeshift wooden walls. This include such necessities as a map of the area and a first aid kit. In general, however, there are few items.
The Glamorgan Wartime Heritage Centre has been paying particular attention to the First World War as of late, in honor of the war's centenary. Their trench exhibit is just one of many new exhibits hosted at the Barry Island station, with other exhibits concentrating on any number of subjects such as naval warfare. One exhibit even exists solely to remind visitors that there are still troops deployed abroad today, the Wales Online reports.
Not only do these exhibits offer visitors a look at the price of warfare, but they also provide visitors with some information on how warfare has affected the area. Such information is also hosted on the centre's website. For instance, users can learn that Barry Island lost a number of men to an attack at Mametz Wood. They can also learn about Barry's youngest person to perish during the First World War. His name was Reg Lewis of the Merchant Navy, and he was only fourteen years of age at the time of his death.
The Glamorgan Wartime Heritage Centre of Barry Island already teaches visitors about a number of war-related events that affected people from the local area, but they are hoping to do more in this regard over time. Currently, their goal is to eventually turn into an interactive museum. This will allow them to feature comprehensive multimedia exhibits that offer a vast wealth of information on Barry Island and its wartime inhabitants.