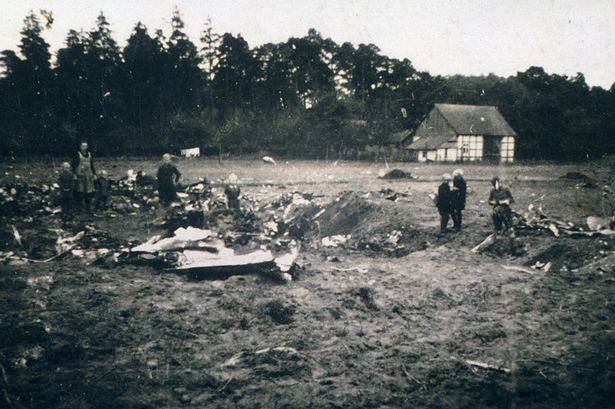 A new search has been instigated by the families of missing RAF air crew members whose plane crashed in northern Germany during World War Two and who have been classified as missing.  In 1944 Eight RAF crewmen were aboard their Lancaster PD124, flying their last bombing mission and the thirtieth raid of the war. They had flown from RAF Metheringham in Lincolnshire and were headed out on a bombing raid on Bremen in north west Germany. Nothing was heard from them after they left England.
It was the International Red Cross which reported back to the RAF that the plane had crashed. Two of  eight crewmen's bodies were recovered and buried in Becklingen War Cemetery. But the remaining six crewmen are still thought to be in the aircraft, buried underneath its crash site in a farm field.
They had most likely completed their mission and were heading home to England when the plane crashed. Eyewitnesses at the time said they could hear Bremen being bombed, but then all of a sudden they could hear engine noises; the plane crashed and exploded in the field next door. The crash left four large craters in the ground which have since been covered over.
The land had been sold to housing developers; the family of Sargent Ronald Barton, who was a Flight Engineer on the aircraft, have battled with German authorities to ensure the land is properly excavated and the remains recovered before the site is built on and the plane covered over forever.
Ronald's granddaughters visited the site last week and met with some of the people who had witnessed the crash when they were just children. They had recovered a handkerchief and boots belonging to Ronald.
An archaeological dig will now take place before the housing developer is allowed on the site.  The German War Graves Commission will be present to oversee any excavation of soldiers' remains.  The British Ministry of Defence has also agreed to conduct DNA tests if remains are found, the Wales Online reports.
Ronald grew up in Swansea in Kent, and moved to London to join the Metropolitan Police. He then joined the RAF in 1943 to support the ongoing war effort.
The six crew who were not recovered have been classified as having no known grave, but all have been listed on the RAF Runneymede memorial in the UK.