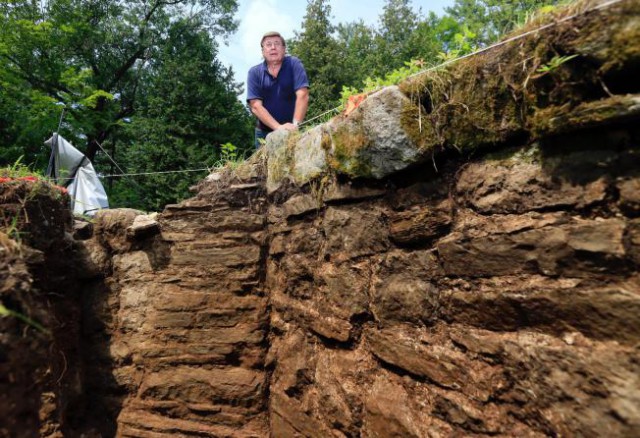 A new excavation at Lake George Battlefield Park in New York State has revealed over 250 year old stone walls belonging to a British fort that once stood on the site.
The area is known to be a site of military history dating back to the 18th Century and is known as Fort George. However, no one expected to uncover the walls of a fort thought to have been built by the British but was never completed.
The excavations have now been completed and sandbags have been placed along the newly discovered walls in order to protect them. The dig was conducted by students and volunteers from the State University of New York which is located near to the park. They believe that the fort would have been used by British and American colonial troops throughout the French and Indian wars.
Among artefacts that were recovered from the site were munitions such as musket balls, pieces of guns, and pottery. By far the archaeologists say that their best find was the stone walls of the fort, which they never knew existed before.
The Lake George Battlefield Park is around 35 acres and is located near to a tourist town, but rarely gets many visitors.
Historians say that the fort was ordered to be constructed in around 1759 by British Army commander, Jeffery Amherst. He wanted to build a large fort to the south of the lake as the ground rose up looking down on two battlefields.
James Montresor, a British Army engineer was given the task of building the fort, and was also responsible for building another fort at Crown Point, Lake Champlain.
Work on the fort came to a stop when the British took the French Ticonderoga fort that same year and so they didn't require a new fort to be built. The only works completed was the corner foundations with stone walls of an interior building. This might have been the beginnings of a cellar or underground chamber, potentially to be used for storage or as barracks.
The area was abandoned around four years later, but was later used by American troops during the American Civil War. Today just a high grass verge remains shaped in the form of a U.
Now the excavations have revealed six foot high stone walls that are five foot thick, revealing a part of history that had been forgotten, The Guardian reports.
Archaeologists hope to return to the site next summer so that they can conduct further excavations.