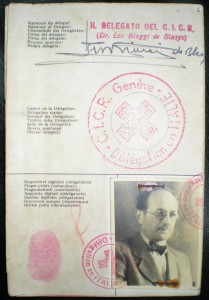 Some of these wanted men were being held in internment camps: generally without identity papers, they would be enroled in camp registers under false names. Other Nazis were in hiding in Italy, and sought Hudal out as his role in assisting escapes became known on the Nazi grapevine.
According to Mark Aarons and John Loftus in their book Unholy Trinity, Hudal was the first Catholic priest to dedicate himself to establishing escape routes. Aarons and Loftus claim that Hudal provided the objects of his charity with money to help them escape, and more importantly with false papers including identity documents issued by the Vatican Refugee Organisation.
These Vatican papers were not full passports, and not in themselves enough to gain passage overseas. They were, rather, the first stop in a paper trail—they could be used to obtain a displaced person passport from the International Committee of the Red Cross (ICRC), which in turn could be used to apply for visas.
In his 2002 book The Real Odessa Argentine researcher Uki Goñi used new access to the country's archives to show that Argentine diplomats and intelligence officers had, on Perón's instructions, vigorously encouraged Nazi and Fascist war criminals to make their home in Argentina. According to Goñi, the Argentines not only collaborated with Draganović's ratline, they set up further ratlines of their own running through Scandinavia, Switzerland and Belgium.
Argentinian Nazi smuggling became institutionalised, according to Goñi, when Perón's new government of February 1946 appointed anthropologist Santiago Peralta as Immigration Commissioner and former Ribbentrop agent Ludwig Freude as his intelligence chief. Goñi argues that these two then set up a "rescue team" of secret service agents and immigration "advisors", many of whom were themselves European war-criminals, with Argentine citizenship and employment.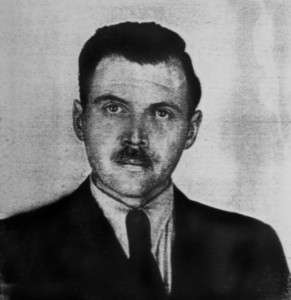 The Italian and Argentine ratlines have only been confirmed relatively recently, mainly due to research in newly declassified archives. Until the work of Aarons and Loftus, and of Uki Goñi (2002), a common view was that ex-Nazis themselves, organised in secret networks, ran the escape routes alone.
The most famous such network is ODESSA (Organisation of former SS members), founded in 1946 and according to Paul Manning, "eventually, over 10,000 former German military made it to South America along escape routes ODESSA and Deutsche Hilfsverein …"
Simon Wiesenthal, who advised Frederick Forsyth on the novel/filmscript The Odessa File which brought the name to public attention, also names other Nazi escape organisations such as Spinne ("Spider") and Sechsgestirn ("Constellation of Six").
Some of the Nazis and war criminals who escaped using ratlines include:
Adolf Eichmann, fled to Argentina in 1950, captured 1960, executed in Israel on 1 June 1962
Franz Stangl, fled to Brazil in 1951, arrested in 1967 and extradited to West Germany, died in 1971 of natural causes
Gustav Wagner, fled to Brazil in 1950, arrested 1978, committed suicide 1980
Erich Priebke, fled to Argentina in 1949, arrested 1994, eventually died in 2013
Klaus Barbie, fled to Bolivia with help from the United States, captured in 1983, died in prison in France on 23 September 1991
Eduard Roschmann, escaped to Argentina in 1948, fled to Paraguay to avoid extradition and died there in 1977
Aribert Heim, disappeared in 1962, most likely died in Egypt in 1992
Andrija Artuković, escaped to the United States, arrested in 1984, died in prison in Croatia in 1988
Ante Pavelić, escaped to Argentina in 1948, initially survived an assassination attempt in 1957, but died of his wounds in Spain in 1959
Walter Rauff, escaped to Chile, never captured, died in 1984
Alois Brunner, fled to Syria in 1954, died around 2010
Josef Mengele, fled to Argentina in 1949, then to other countries, dying in Brazil in 1979. Remains exhumed in 1985 and probably destroyed.
Johann Feil
Sources:
Ratlines, Miniature submarines, Buenos Aires Mini Sub, Gehlen
"XT craft 1" by Emoscopes – Own work. Licensed under GFDL via Commons.