It turns out, as many of our readers have thought over the past few weeks that the train is not there.  The sounds of disappointment were heard across social media on Tuesday when it became apparent the press release ended.
Researchers have presented their findings regarding the alleged gold train near the town of Walbrzych in Poland. On Tuesday Professor Janusz Madej from Krakow's Academy of Mining said, "There may be a tunnel. There is no train especially an armoured one carrying precious metals."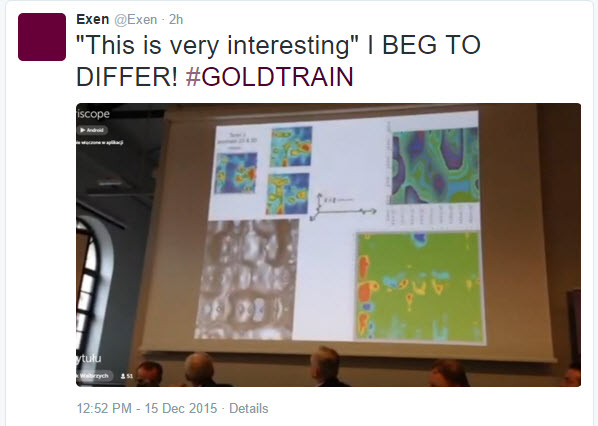 Scientist Janusz Madej: 'treasure hunters' geomagnetic readings may have been disrupted by presence of overhead power lines.'
Piotr Koper, who made the initial claim together with Andreas Richter about the train, still believes it is there and said that the only way find out once and for all if the train was there, was to dig. However, this is not likely to happen as the alleged location is next to an important railway line.
Treasure hunters Piotr Koper of Poland and Andreas Richter, a German, announced in August they had discovered a 320-foot-long train buried eight to nine meters underground in a railway tunnel that was part of Nazi Germany's Riese project (Riese meaning "giant" in German).
This was a construction project in Nazi Germany between 1943 and 1945 which was made using the labor of prisoners of war and prisoners of concentration camps.
Koper said that he and Richter had found the train three years ago and had also worked out how to extract it from the ground. He added: 'We have spent much time examining the logistical problems and worked out a solution for getting the train out.
In October, the Polish military moved in to check the site for explosives. The search that was allowed was non-invasive only, meaning that no digging or drilling could take place. With the use of Ground-Penetrating Radar, the precise location of the gold train has been tried to be established.
The ghost train in Poland seems now destined to be consigned to the fate of similar theories, like the buried Spitfires in Burma and Hitler living out his days in the sun in Argentina.
More updates to follow…
Tweets source: https://twitter.com/Exen