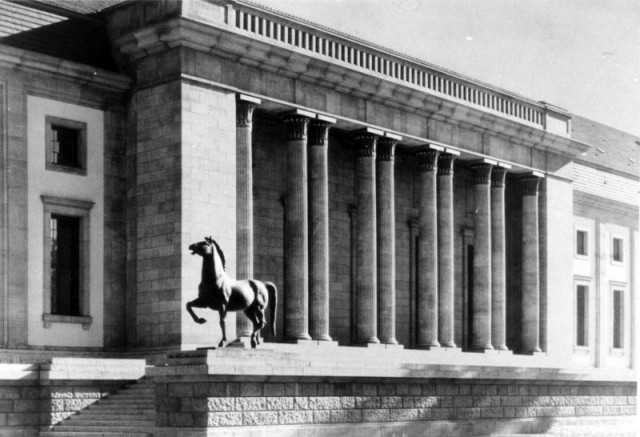 Image via Wikipedia
After decades of disappearance in the complex and in some cases impenetrable art black market, some historical relics belonging to Adolf Hitler's Third Reich have been recovered. An investigation carried out by German authorities, into the black market circles that dealt with these relics successfully pulled out two bronze horse statues along with a number of other Nazi –era artefacts, from the clutches of black market dealers.
A Berlin police spokesman,Thomas Neuendorf, told the press that among the recovered pieces are massive bronze horse sculptures that once stood just outside the German Chancellery. The bronze horse sculptures are in fact the creation of an artist, Josef Thorak, while the other pieces are the works of Arno Breker.
An elaborated investigation into the workings of a number of illegal art dealers, which spanned over an area of five states, was concluded with a number of raids on several properties up and down the country, ultimately recovering the artefacts.
The authorities are now in the process of establishing provenance for a number of pieces recovered as a result of the investigation. A total of eight German nationals aged between 64 and 79 are under investigation, and authorities are hoping to uncover more facts after the completion of the investigations.
The horse bronze statues had seen the rise and fall of the 'Third Reich' and the 'Fuhrer' Adolf Hitler. The massive German Chancellery was built on the orders of Hitler himself and stood as a symbol of Nazi dominance in the region. He particularly approved and liked the idea of horse statues to put on either side of the stairways leading to the entrance of the chancellery. But with the fall of Berlin, a large part of chancellery was completely destroyed by the Red Army, along with scores of other historic buildings in the City.
Mr. Neuendorf said that one of the relics recovered is a granite relief depicting shirtless knights carrying swords, in a typical Nazi Style, was also destined for the chancellery but could not make to its place alongside the Bronze horses.
The objects were lost after a display that took place in a sports field in East Germany, just before the historic fall of the Berlin wall in 1989. The breakthrough that led the investigation towards the recovery of the historic items started when police received some information regarding the sale of the artefacts taking place in Bad-Duerkheim, The Telegraph reports.
The investigators found the items hidden in a warehouse in Bad Duerkheim, a small town in the state of Rhineland Palatine. Authorities also raided a number of properties and homes in Schleswig-Holstein, North Rhine-Westphalia, Bavaria and Berlin.