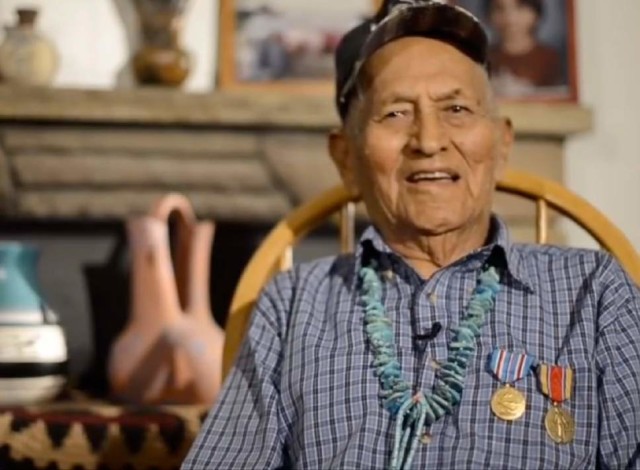 A Navajo World War Two code talker has died at the age of 92. Ernest Yazhe would use his native language of Navajo as a code to communicate military correspondence in the Pacific theatre of war. This was used to confuse the Japanese and prevent military communications being understood by the enemy.
Ernest died in his home town of Salt Lake City, Utah this week. He was originally born in Naschitti, New Mexico and signed up to join the US Marines when he turned 19. There were hundreds of code speakers who would communicate messages via radio in a version of Navajo that the Japanese could not understand.
Navajo authorities flew their flags at half-mast for four days in January to commemorate Ernest's memory. In an official statement, they said that Navajo was used as a weapon against the Japanese and helped to win the war in the Pacific.
A small group of 29 Navajo speakers were first recruited in 1942 to use the little-known language for coded communications. Ernest joined in September of 1942 and by the end of the war, there were 440 Navajo Code speakers. Today less than 20 survive.
Ernest's brother Harrison was also a code speaker, he died in 2004, but both brothers have been named on the Congressional list of code speakers in the US Marines. They also had a third brother, Silas, who joined the US Army and died in action in Italy in 1944.
Ernest saw action in Guam and Okinawa and recalled how he heard the Japanese troops talking about the Allies' code speakers and how frustrated they were that they couldn't speak the language.
At the end of the war, Ernest helped to have Japanese prisoners repatriated from the continent. He was finally allowed to return home in 1946 when he moved to Utah to start a job working at a school in Brigham City. Ernest married Katie Trujillo, and they had seven children together. He went on to work for a local copper manufacturer for almost 40 years before retiring.
Ernest didn't talk about his wartime experiences much, but this may have been that a lot of his work was classified until the late 1960s. There were regular code speaker reunions, and Ernest attended one in Arizona in 2001.