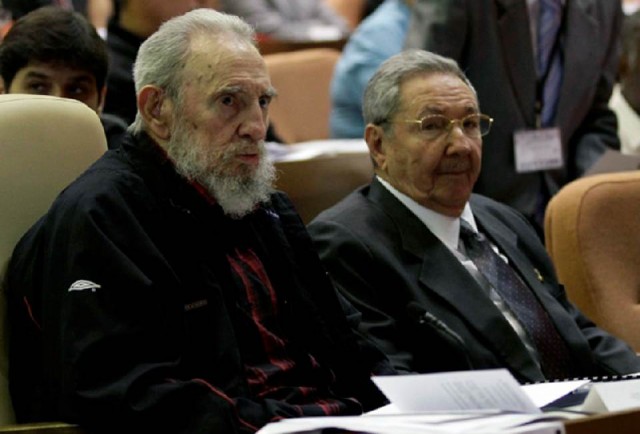 Cuban communist politician Fidel Castro compares NATO to Nazi Germany's SS and says America and Europe are war-mongering.
Speaking against America's policy in the Middle East, Fidel Castro says US Senator John McCain is "Israel's most unconditional ally."
He alleges Europe is wholly controlled by the United States. And according to him, it has beenso since the European Economic Community was formed. To him, since the union was formed, the world has not known peace. He accuse America of trying to settle scores with Russia and China for putting an end to the imperialist colonial order that was imposed on the world by America and Europe. He calls Russia and China great nations and said they did a heroic deed by ending US/Europe rule.
According to the former Cuban President, the West has so much distrust for the rest of the world to the extent that it has grown to become an emblem of "imperialist policy."
He said Israel's Mossad intelligence agency was supported by McCain. And that the 2008 American Republican presidential candidate had worked with Israel to make the Islamic state that is now in charge of a larger part of Iraq – as well as almost 35% of Syria.
Speaking about the EU and NATO, Castro said a majority of the Europeans representing Europe in NATO are Nazi Germany's agents in disguise. He said when these representatives speak; many people are shocked because the ways they speak as well as the statements they make are of the Nazi SS's style and face.
He says Europe is now the "laughing stock of the world" because of Hitler's greediness. According to him, Hitler's empire was based on greed. And Hitler's defeat has made sure it is a forgotten. And as such, Europe has lost its glory and now thrives on the reassurances it gets from NATO who is in support of violent and bourgeois administrations, the Yahoo News reports.
Fidel Castro was the former President of Cuba and occupied the sit from 1976 to 2008. Before becoming the president, he was the Prime Minister of the country between 1959 and 1976. Castro's brother Raul is the current president of the country. Castro handed over power to his brother in 2006 due to the health crisis he was facing at the time. Since getting better, the former President has dedicated his time to writing books, as well as articles. He has also committed some of his time to receiving foreign dignitaries that visit the country.