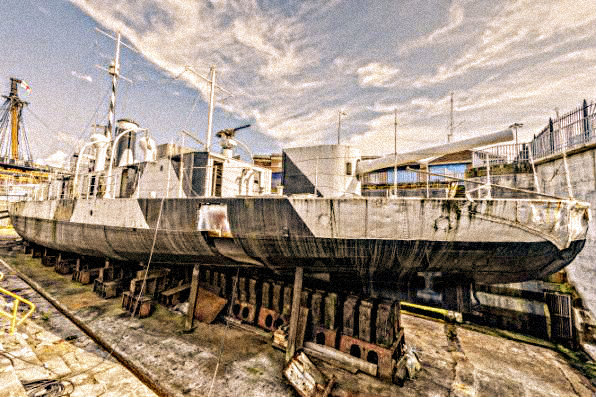 For the first time, the National Museum of the Royal Navy employs crowdfunding for the completion of the restoration of a Gallipoli warship, the HMS M.33.
The HMS M.33 is the only Royal Navy warship survivor during the Gallipoli campaign which was fought in Turkey from April 1915 and January 1916.
The online month-long crowdfunding appeal for the HMS M.33 aims to raise £19,150.
Currently, the HMS M.33 is moored alongside the HMS Victory, Nelson's flagship, at the Portsmouth Dockyard. She is set to be opened to the public on on August 6, 2015 and will be one of the featured events of UK's commemoration of the Gallipoli Campaign's centenary.
The Royal Navy warship HMS M.33 was originally designed for coastal bombardment. She was fitted with a shallow draft which allowed her to go close to shore and fire out at her targets on land. This approach was vital during the Gallipoli Campaign in World War One as Gallipoli was a peninsula.
However, though HMS M.33 was fitted with two over-sized and very powerful 6-inch guns, she lacked the comforts needed by her crew. Her crew which consisted of 72 officers and men were all crammed inside this basic metal box and had to contend with that for more than three years.
The crowdfunding project launched for the Gallipoli war vessel is just less than a tenth of the final amount the project needs for its completion which is £250,000. UK's Heritage Lottery Fund has initially awarded £1.75 million for the warship's restoration.
According to the Project Director for the M33 launch, Matthew Sheldon, their launching the crowdfunding was designed to give the public a one-of-a-kind opportunity to contribute to the saving of an important piece of Britain's naval history. Additionally, the public will also be the one to benefit from it as they get to enjoy visiting it for many years to come.
He also added that those who donate to the project will receive something in return given accordingly to the level of their gifts. This "something in return" ranges from acknowledgments via the social media, free tickets, limited edition postcards and special ship tours with a trained curator.
Sheldon pointed out that in crowdfunding, donors need not give big amounts to make sure that the legacy of the HMS M.33 stays on for the future generations and that's where its beauty lies.
The crowdfunding appeal for the HMS M.33 runs until March 18, 2015 on Indiegogo. The National Museum of the Royal Navy in Portsmouth will also hold a special exhibit, the 'Gallipoli: Myth and Memory', on March 28, 2015.
https://www.youtube.com/watch?v=bo7NYoyMzY4