A Halifax HR871 bomber that crashed off the coast of Sweden in World War II will be recovered this summer if the weather holds.
The plane crashed off the coast of Falsterbo in southern Sweden in 1943 due to bad weather.
It was found four years ago. Since that time the divers of the Swedish Coast and Sea Center (SCSC), Lund University and members of the Canadian Halifax 57 Rescue group have been examining the seabed for more traces of the plane. They hope to salvage parts of the crashed plane.
"Right now we're mapping out the area and taking pictures of it. After that, we're going to try to uncover all the parts. Most of them are probably still covered by sand dunes so there's a big chance we'll find even more," said Jan Christensen, an underwater photographer, and SCSC member.
"We hope to salvage it at some point this summer or early autumn, but the weather is a very important factor and can be unstable, so it depends " he said.
Almost 11,000 Canadians were killed in about 28,000 Halifax bomber missions during World War II. After the war, the bombers were all melted down to be used in construction. The bomber was central to the Allied air bombing campaign. Only one bomber has been recreated, using parts from other crashed airplanes in Norway and Belgium.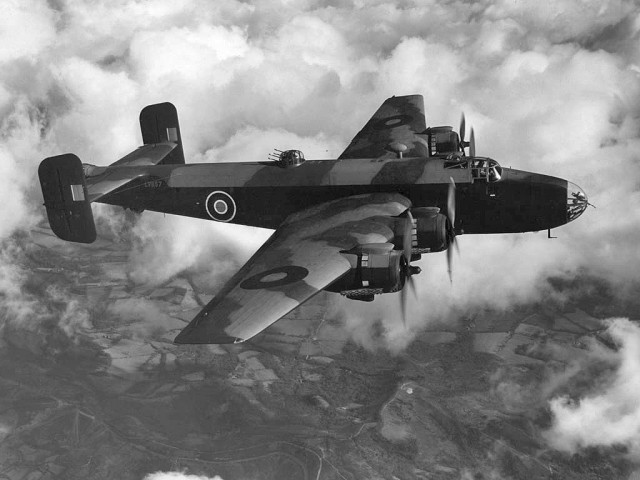 The Bomber Museum Command of Canada is hoping to use the parts found in Sweden to recreate a second Halifax bomber. They have received permission from the Swedish government to recover the parts.
"There's been a lot of stories written about this in Canadian media, there's a lot of interest," said Christensen, who has been down to take pictures of the wreckage and would be happy to see the plane recovered.
"It's really exciting. It's great that we're allowed to dig through history like this," he added.
The recovered Halifax was on a mission in Nazi Germany on August 3, 1943, when it was struck by lightning and lost two of its four engines. The seven-man crew all survived after steering the plane to Sweden and ditching it in the sea near Falsterbro.
One of the crewmen told about the experience of that night.
"The prospect of ditching in the North Sea or being attacked by a night fighter were not worth considering, being unable to avoid with any evasive action," veteran John Alwyn Phillips explained at the time. "So with varying degrees of enthusiasm it was generally decided to at least make an attempt at reaching Sweden."
The crew of HR871
Pilot Sergeant John Alywyn Phillips, Royal Air Force Volunteer Reserve (RAFVR), and his crew – Sergeant H. C. McLean, flight engineer (RCAF); Flight Sergeant G.W. Mainprize, navigator (RCAF); Sergeant. V. A. Knight, bomb aimer (RAFVR); Sergeant R. A. Andrews, wireless operator (RAFVR); Sergeant W. H. King, mid-upper gunner (RCAF); and Sergeant L. D. Kohnke, tail gunner (RCAF) – were the last flight of 'B' for Baker. They were "wheels-up" from Gransden Lodge at 22:58 hours.
During the outbound leg to Hamburg, they encountered a massive thunderstorm around 21,000 feet (6,400 metres). Ice began to accumulate on the Halifax's control surfaces, making it sluggish and increasingly difficult to control. They would not have stood much of a chance if they had been forced to evade night fighters or flak, and Phillips quickly made the decision to dropping the TIs – target Indicators. Moments later, the forward section of the Halifax was struck by lightning.
Both inner engines were knocked out, the radio was useless and several critical instruments stopped functioning. The brilliant flash temporarily blinded Phillips, and he lost control of the lumbering bomber momentarily. With a degree of control and his sight back, Phillips had to weigh the risks of trying to fly his crippled bomber back across the unforgiving North Sea back to England. He made the decision to turn the aircraft in a northerly direction, with the hope of reaching neutral Sweden.
Flying at just under 4,000 feet (1,219 metres) above the Baltic Sea, they made visual contact with a lighthouse and lights from a number of dwellings at Falsterbo. The aircraft passed Ringsjön and Vombsjön. Phillips changed course to a southwesterly heading, which would take the aircraft back out over the Baltic Sea. He trimmed the controls, and then gave the command to bail out. They were in close proximity to Flyinge, Sweden's largest and best-known horse breeding station. One by one, the crew members fell into the dark sky.