Millville High School in New Jersey employs an interesting approach to studying history: an oral history project with aging former servicemen who tell stories about their World War II experiences. Students hearing these recollections should retain it in living memory years after the veterans are gone.
When they landed on Iwo Jima, there were 56 men in the platoon, recalled a 90-year-old veteran recently at the Millville Army Air Field Museum in Cumberland County, N.J. Seven days later there a half-dozen.
His story, one of many told by men and women, have come to be known by numerous students such as Shoanne Seijas, 19, who graduated two years ago.
She has interviewed 15 World War II vets and had informal conversations with numerous others since she joined the project in 10th grade. There's a distinctive difference between reading in a history book or watching a movie and talking to someone who witnessed it, she said.
She met Kocielski while working on the project, who up until then had said nothing about the horrific combat on Iwo in the last year of the war.
He closed the door on the subject until a decade ago, he said, until his daughter made him aware of the project.
After some persuasion from the museum, the project co-sponsor, he answered questions while a video camera recorded.
The sand was of very fine stone, he recalled. Marines sank up to their ankles as soon as they arrived on the beach.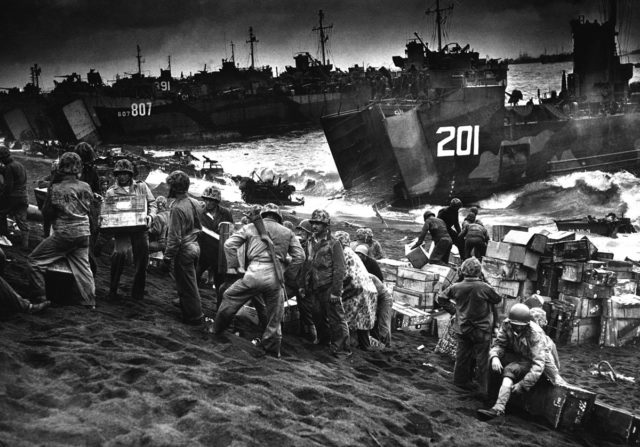 On more than one occasion a Marine next to Kocielski was fatally shot, including an 18-year-old who was showing a photo of his new bride when he was killed.
The five-week battle on Iwo Jima killed almost 7,000 Americans, wounded 20,000, and took the lives of almost 18,000 Japanese soldiers.
Kocielski worked for 37 years at DuPont and Millville is still home. He has told his story to civic groups and school students but omits the gruesome particulars.
With movies and books concerning war, there can be a childlike disconnect. You don't understand the tragedy and fear, Seijas explained. But when you sit down with someone who has lived through it, you say this is an experience that you never want to go through.
She is a sophomore at Gloucester Community College preparing to study anthropology as a career.
Videotapes of more than 100 interviews and Seijas 15, are now on permanent record at the U.S. Library of Congress and the Museum, Philly.com reported.
The project started 15 years ago when the Millville School District won a state grant to create community technology access said Bob Trivellini, a program director at the district. So they decided to make a website, which was cutting-edge technology at the time.