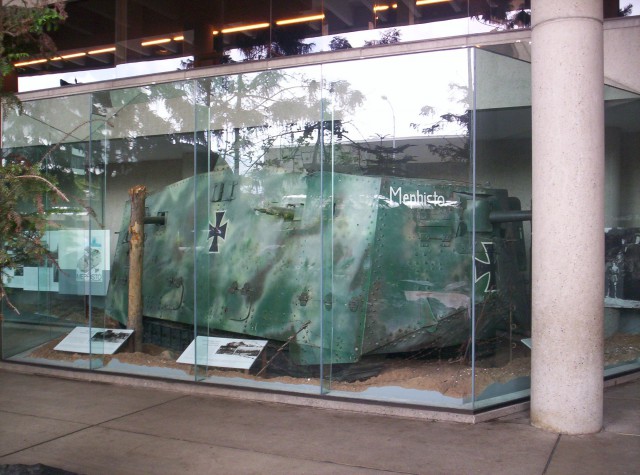 [Via]
Most of us would probably complain while wrapping a birthday present, imagine one day at work you are told to wrap a First World War tank, safely. Truly a humongous task, the prize showpiece at Queensland Museum, an old German tank, has been literally cocooned to be transported to south for an exhibition. Most of the material used in wrapping the tank is felt and plastic.
Named 'Mephisto', this last remaining and fully intact A7V Sturmpanzerwagen from the First World War was taken in by Queensland soldiers as a Souvenir. In July 1918, Mephisto was spotted by the soldiers near a French town Villers Bretonneau.
The story of the capture of Mephisto during the First World War is an interesting tale. The soldiers from 26th battalion effectively stole the machine from No man's land, by avoiding enemy fire. Mephisto was used by the Germans as forward look out post, therefore it was an effective part of the battle. Most of the other tanks were blown up by Germans in a bid to stop the Allies to get hold of the German tank technology.
Collection Manager Nick Hadmutt said that undoubtedly Mephisto is the largest item wrapped and transported, weighing 33 tone and 8 meters long. For the staff, wrapping this giant machine was a hefty task and they had to come up with a creative and safe method to wrap and transport the machine. Hadmutt looked over the matters of wrapping the tank and a safe transportation to the Australian War Memorial. He explained that staff had to first wrap thick packing blankets across the top of the machine. Cables were used to stitch the blanket together to stop them from slipping off. Staff then took a 2-meter wide strips of plastic and made a huge tarp by joining them together. They tied this tarp at the top and used gaffer tape to seal the sides of the tank, the Brisbane Times reports.
The whole project took place in Ipswich at Workshops Rail Museum. This is where Mephisto was on display under a climate-controlled environment in order to avoid rusting and any general wear and tear.
The final destination of perhaps the world's largest gift-wrap, is Australian War Memorial. The director of Queensland Museum Suzanne Miller said that Mephisto would not stay in the nation's capital for eternity. The beloved tank will be loaned to Australian War Memorial, until April 2017. It will then be safely returned to a newly built QM, where it will be put on a permanent display at Queensland Remembers Gallery. The new QM is due to open in the last quarter of 2018.