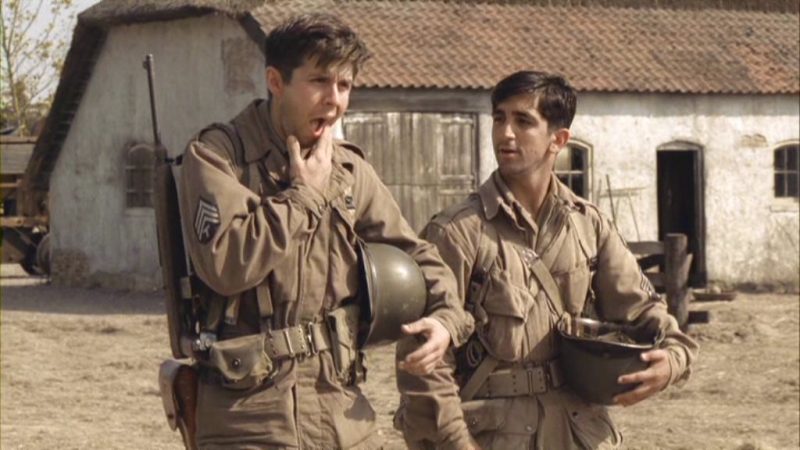 Meet the Band of Brothers Actors in Normandy in June.
When & Where: June 5, 6 & 7, 2015 at Overlord Omaha Beach Museum, the Utah Beach Museum and the Richard D. Winters Leadership Monument in Sainte-Marie-du-Mont, Normandy, France.
What: 2015 will be the second and final reunion of the actors in Normandy for the foreseeable future. The 2015 events will recognize the 70th anniversary of the end of the war in Europe (VE Day).
Band of Brothers Actors Who Plan to Be in Normandy Next June:
Douglas Spain-Antonio Garcia
James Madio-Frank Perconte
Ross McCall-Joe Liebgott
Rick Gomez-George Luz
Bart Ruspoli-Ed Tipper
William Tapley-British Tank Commander
Frank John Hughes-"Wild" Bill Guarnere
Robin Laing-"Babe" Heffron
Peter Youngblood Hills-"Shifty" Powers
George Calil-"Mo" Alley
Philip Barantini-Wayne "Skinny" Sisk
Stephen McCole-"Moose" Heyliger
Shane Taylor-"Doc" Roe
Mark Lawrence-William Dukeman
Make sure you get your tickets as early as you can as this, like last year, will be a sell out. You can get your tickets here: WWII Foundation
Main Event Schedules:
June 5th at the Overlord Museum at Omaha Beach. 8PM. Food, drink, autographs, photos and lots more. Reenactors camp and artifact display. Event Posters and Special Reunion Challenge Coins available for purchase. Tickets must be reserved below via PayPal.
June 6th at the Utah Beach Museum. 8PM. Food, drink, autographs, WWII music, photos, a special panel discussion with the actors and lots more. Event posters and Reunion Challenge Coins available for purchase. Tickets must be reserved below via PayPal
Other Ways to meet the Actors in Normandy:
June 4th at 5PM at the Hotel Villa-Lara in Bayeux: Autograph signing.
10 euro donation for entrance
20 euros for official event posters, which can be signed by actors
25 euros for limited edition Band of Brothers Challenge Coins (numbered 1-300) marking the actors final reunion and the 70th anniversary of the end of World War II
June 7th at 11:30AM at the Utah Beach Museum in Sainte-Marie-du-Mont: Autograph signing.
8 euro entrance fee to museum
10 euro donation for autograph session
20 euros for official event posters, which can be signed by actors
25 euros for limited edition Band of Brothers Challenge Coins (numbered 1-300) marking the final actors reunion and the 70th anniversary of the end of World War II
J
You can get your tickets here: WWII Foundation
Sponsored by: