He unassumingly described himself and his RAF pals as "just playboys who wanted to fly planes" but his ten WWII military decorations speak otherwise. These medals tell of how RAF ace Billy Drake downed 25 war planes in a flying career that spanned from the Battle of Britain, North African campaign and the Normandy Landings.
Group Captain Billy Drake was one of the greatest air aces Britain had in its history having destroyed 25 enemy planes throughout WWII. He first worked supremacy over the air during the Battle of Britain  which happened over Southern England resulting to the conclusion of German dictator Adolf Hitler's plans for invasion.
In that said campaign, RAF fighter pilot Billy Drake was the Squadron Leader of No.1 Squadron, the unit accredited with establishing a number of combat techniques which brought about victory for the British RAF.
He scored his first victory when he led his formation of Hurricanes into an offensive attack against a fleet of Messerschmitt 109 fighters. Shortly after that, Billy Drake took down three Dornier bombers. He came under fire in a later mission. This time, he was ordered by his commander to "p*ss off and go home" after finding out that his plane didn't have the necessary oxygen supply needed for high-altitudes.
As he was about to do that, he saw three Dorniers and attacked them. He put down one of the war planes but had to bail out himself of his Hurricane when it,too, caught fire.
October 1942 saw RAF ace Billy Drake being transferred to the North Africa campaign where he proceeded to destroy 17 more air crafts of the enemy. After this successful stint, he got promoted to Wing Commander and took a Spitfire in Malta on June 1943. He worked by providing protection to fellow US bombers as they were attacking Sicily.
Later in WWII, he was able to lead a band of Typhoons in attacks against V-1 rocket sites in France.
Billy Drake had said of his career being a flyer in the RAF: "By God we had a good time".
Billy Drake later retired from the RAF July 1963. He spent his retired years living in Portugal for another 20 years, got married twice and had two sons in his lifetime.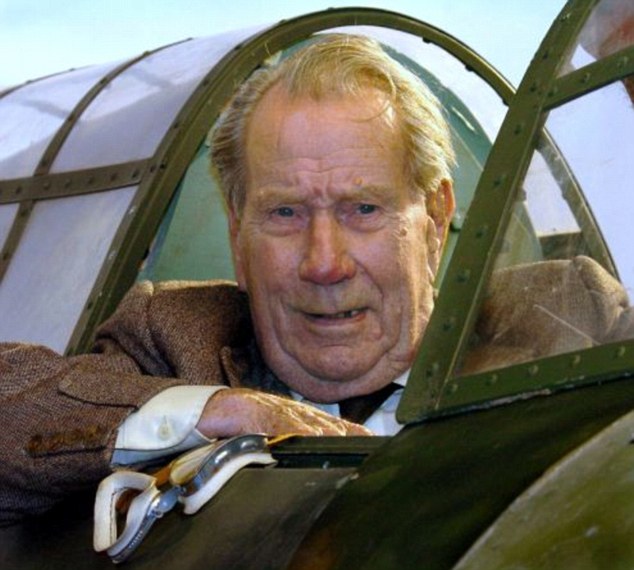 Billy Drake passed away in Teignmouth, Devon in 2011 at the age of 93.
His legacy as a RAF fighter pilot – the ten military medals which spoke of his stellar career in the RAF – will go under the gavel this coming March 12 according to Bonhams, the auctioneer responsible for the sale.
The medals of Group Captain Billy Drake include his Distinguished Service Order and his Distinguished Flying Cross and Bar.
This Billy Drake military haul is the evidence of how this one man flew Hurricanes, Spitfires, Kittyhawks and Typhoons and carried on war in several war theaters throughout Europe and North Africa.
The Billy Drake military medals are expected to fetch the selling amount of up to £40,000.