Marine Corps Corporal Joshua Bettis is an outbound clerk in the distribution management office at Headquarters and Service Battalion at Henderson Hall, Virginia. His interest in the military began when he watched Saving Private Ryan around the age of twelve.
He was particularly interested in the opening scenes that showed the D-Day invasion by U.S. troops at Omaha Beach in Normandy, France on June 6, 1944.
While visiting his great-grandfather, Bettis mentioned how much he enjoyed the movie and that he had begun reading military history. That's when his great-grandfather told him that his brother-in-law had been killed during the D-Day invasion.
"I was shocked to find out I had somebody who was there – killed in the invasion and buried in Normandy," Bettis said. "No one had talked about him as time went on, and the subject was only brought up after watching the movie." Bettis found out that the relative's name was Alfred H. Carlton and he began researching his life. No one from the family had ever gone to visit his grave in the Normandy American Cemetery.
Papers and letters about Carlton had been kept and handed down within the family to Bettis' mother, who supplied them to Bettis. Included in the packet was a letter sent in September 1944 from the War Department's adjutant general to inform them of Carlton's death on June 7, 1944.
"It was really surreal to me holding something his mother held when she found out that her son had been killed," Bettis said. "I can only imagine how she must have felt. It was like holding a piece of history."
Bettis serves as the vice president of his unit's Single Marine Program. The group had the idea of Marines from their battalion going to France for a professional military education trip. At the time, Bettis was unaware that the trip would include Normandy.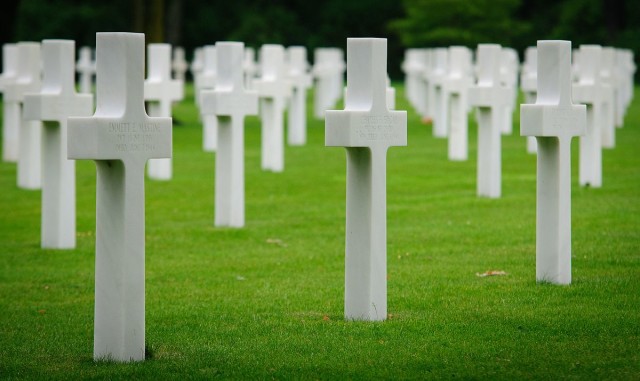 "My great-grandfather had told me if I ever had the chance to make it there, I should take the opportunity," he said. "When this trip came up, I felt my time had come."
The trip happened on May 23-27, 2016; more than 70 Marines took part. On the third day of the trip, they visited D-Day landing sites and the Normandy American Cemetery.
Marine Corps Master Sergeant Scott Hart was the staff noncommissioned officer in charge of the trip. He said that Bettis had approached him to see if he could visit the grave of his relative. Hart checked with their guide and he contacted the cemetery staff who led Bettis to Carlton's gravesite.
"Visiting the gravesite was unreal," said Bettis. "It was unreal to be there in person, and [it] gave me a sense of closure even though I never knew this gentleman. It's like my family's blood is on that beach."
At his mother's request, Bettis lay a photo of Carlton on the grave and knelt while touching the white Lasa marble Latin cross that is inscribed, "Alfred H. Carlton PFC 116 INF 29 DIV Illinois June 7, 1944."
The cemetery staff was able to provide additional information about Carlton. He was likely in the first wave during the assault and wounded in action on the beach. The cemetery also gave Bettis a summary of action which provided more information about Carlton's awards and other information that may allow Bettis to access more records, such as Carlton's Purple Heart citation and information to locate his Purple Heart Medal.
"The cemetery personnel were able to paint a clearer picture," Bettis said. "All the paperwork I had reflected he was a private, but he was a private first class."
Bettis said he allowed the cemetery staff to scan to papers and records he had for their records. This will allow the cemetery to tell future visitors about Carlton's story.
Carlton had taken out a life insurance policy before leaving for his Army training. After his death, his family used the insurance money to save their farm in Roodhouse, Illinois.
"My family [then] was very poor; no electricity in their home and barely had money to put food on the table," Bettis said. "They were basically going under because of the Great Depression, and they couldn't afford to bring my great-great-uncle's body back. My family thought he should be buried with his friends."
Bettis added, "I feel that he saved our family. So, in a lot of ways, I credit my existence to his sacrifice." Bettis said he wants to continue to find information and pass it on to future generations. "I couldn't have done this alone," he said. "It was the staff noncommissioned officers that made this happen, and the personnel at the cemetery, as well. My family is going to be ecstatic and thrilled with all the information I come back with."
Source: http://www.defense.gov/News-Article-View/Article/798586/face-of-defense-marine-visits-gravesite-of-world-war-ii-family-hero