Margaret Bourke-White, one of the original (first woman) photographers of LIFE magazine, took bulk of photographs of the US bombers stationed in British soil at a time when WWII tide was still not in favor with the Allies.
The VIII Bomber Command, more commonly referred to as the Eight Air Force, acted as America's main force hen it came to attacking the Nazis from the air. For a number of years spanning from early to middle 1940s, B-17 and B-24 bombers of The Mighty 8th, the Flying Fortresses, moved across the channel along with British RAF fighters to do offensive campaigns against critical towns and cities of Nazi-controlled Europe.
Margaret Bourke-White visited these US Bombers in English soil and photographed them. She visited them more than once within the 1940s.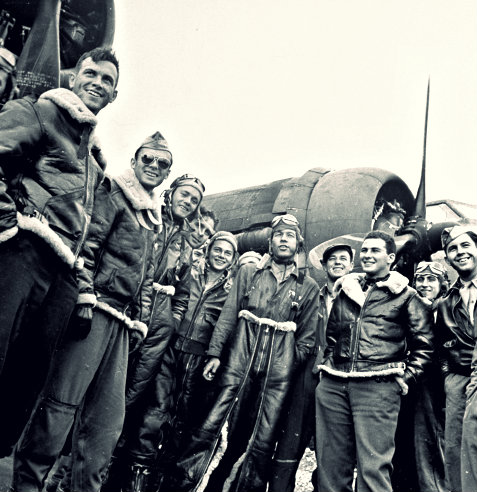 Margaret Bourke-White was a pillar on her own right in the photography industry. She was the first woman certified photographer in America during the Second World War. She was also the first to be authorized to fly in combat missions. She was also best known to be the first foreign photojournalist allowed to snap photos of the industry within Soviet Union.
For many years, Margaret Bourke-White took photos of skirmishes and tensions, civil wars and humanitarian catastrophes as well as of natural calamities.
She took documentations of the segregation happening then in the southern part of America and was the last person Mahatma Ghandi warranted an interview to before his assassination.
She was among the first photographers to record the Nazi death camps' liberation. She even survived a torpedo attack while she traveled via ship to North Africa 1943.
Margaret Bourke-White was clearly one of America's greatest photographers and photojournalists in the 20th century.
Diagnosed with Parkinson's Disease, Bourke-White died eighteen years after she first had symptoms of the said illness – August 27, 1971.
See her takes on The Mighty 8th in LIFE.