The German organization March of Life inspires young Germans to examine their families' past, break decades-old silence and expose acts perpetrated by their grandparents during the Holocaust. Events include marches in major cities worldwide under the banner 'Never Again' and meetings with survivors.
Recently, there was a meeting between Anna Reiner and Holocaust survivor Yevgenya Chaika in the Israeli city of Netanya. Approximately 100 Holocaust Belarus-born survivors came face to face with ten young Germans, the descendants of Nazi officers and soldiers. Holocaust survivors described their terrible experiences, and the latter related their families' shameful past.
Anger and bitterness didn't arise during the intergenerational meeting, only sadness and comfort.
Reiner's great-grandfather participated in the burning of a synagogue in the city of Darmstadt, another grandfather was a policeman in the Krakow ghetto, and yet another grandfather was a Wehrmacht soldier in the occupation of Belarus.
While Reiner, 25, described the horrendous acts committed by her grandparents, Chaika, sitting beside her, stroked her arm, calming her. There's the likelihood Chaika, born in Belarus, encountered Reiner's grandfather in the past.  She was eight months old when German soldiers charged into eastern Belarus and forced the Jews into crowded ghettos.  She, with her family members, was thrown into a crate on a large truck, which moved her to the ghetto.  She barely survived the following four years. Following liberation, the family returned home, only to discover their house had been not only been hit by a bomb but also looted.
It will never be known if Reiner's grandfather was complicit in throwing Chaika into the crate on the truck, or who fired the mortar shell that demolished the family's home.
And what if it was the grandfather? Chaika questions. Is Anna to blame for the actions of her grandfather and grandmother? Definitely not. I love her as if she were my daughter.
Asia Bronstein related how her father, drafted into the Red Army, caused her to flee eastward with her mother. On the journey, they arrived in a minor Jewish town at the same time that the Germans arrived, encircled the town and turned it into a ghetto.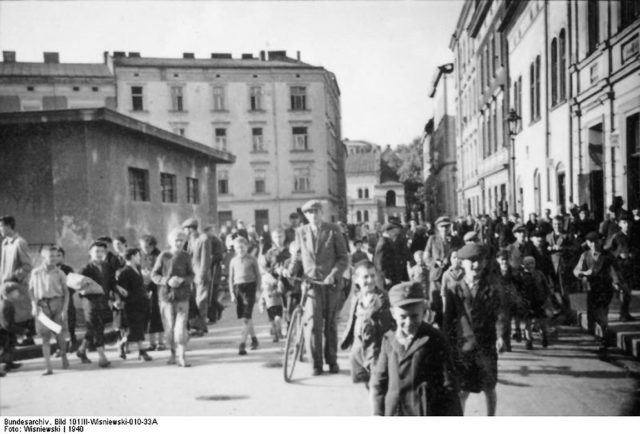 That wasn't living, just hard, daily survival, she related. The 1941 winter was very cold. There was no reason to shoot people because they died of the cold, diseases and hunger.  Daily, a wagon passed and collected the bodies.
Established nine years ago, the March of Life organization is an effort to memorialize the Holocaust.
For years, there was no discussion in Germany about what happened only meters away in city centers, explained the organization's international director, Heinz Reuss. There wasn't any public debate, and also no family conversations about the past. People didn't disclose what they did during the war. Many descendants discovered, after investigating their family's past and asking questions, that their grandparents had been Nazi criminals.
There has also been silence in Israel. The main objective of the organization is to get people to open up and talk as a way to bring people together and release old hatreds and past tensions, Ynetnews reported.
Reuss said preventing genocide and avoiding a repeat of history applies today, as well. If a March of Life is held, it's a symbol against any genocide, not only the Holocaust.