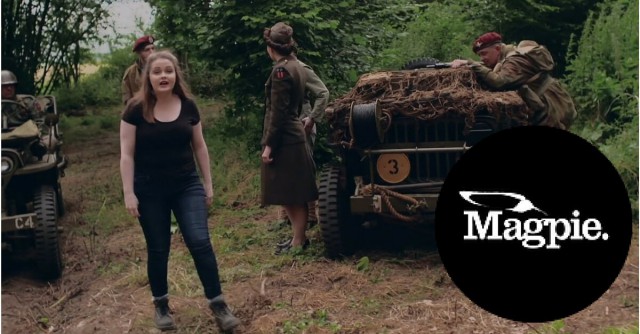 Looking at the website for 'Magpie', it's hard to miss the self-proclaimed phrase 'not just another war film' nosediving out of the screen. I'm sure those words have been said before, and i'm sure what followed was, yes, just another war film. Magpie however, really is different. Or at least it will be different. I, like the film's creators, grew up and still reside in East Anglia, the wartime home of the Mighty Eighth, the brave men tasked with clearing out Nazi occupied Europe from the skies above. I first saw tiny glimpses of this project popping up on social media earlier this year, as friends and acquaintances lent their knowledge, vehicles and wartime equipment to tell this story. Why then, were so many re-enactor groups willing to lend a hand?
Earlier this month, the answers came in the form of a 4 minute video that sees the creators and actors of Magpie maneuvering their way through a battle zone, laying out the film's plot, all the while avoiding grenades, gunfire and the flirtatious eyes of the American airmen. All very impressive, but what really caught my eye was the theme of Post Traumatic Stress Disorder.
Having recently spent time working with veterans suffering with PTSD from conflicts like the Falklands, Northern Ireland and Afghanistan on the award winning archaeology project 'Operation Nightingale', I was pleased to see a young team tackling the subject head on. Even now, in 2015, PTSD is something that largely goes unspoken, though thankfully there is more help for today's veterans than there was in the Second World War. Magpie sets out to raise awareness and preserve the memory of those men that so often go forgotten. If the heroes are the men that never left the battlefields, what of the men who's minds never left the war?
As said themselves, 'Magpie is not the typical romanticised version of the events of the war, but instead aims to shed light upon the real life experiences of both the British and American men and women during this time. Due to much of the content being based upon genuine accounts of first-hand experiences, Magpie promises to be as accurate and faithful to these true stories as possible.'
Magpie Kickstarter Pitch Film from Paul Cook on Vimeo.
As if so often the case with new films, Magpie is looking to the public to help provide funding. Having already raised £4,200 of their £12,000 goal, the project is looking like a real possibility. Using Kickstarter, the team have provided a number of rewards and gifts for those that donate anything from £2 to £1,500. I sat down with director of photography, Paul Cook to find out why he wants to tell the story of these men for passion, not profit.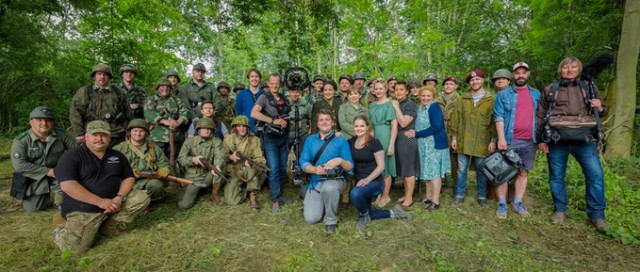 John: It's clear a lot of hard work went into Magpie before the cameras started rolling. The cultural impact of the so called 'friendly invasion' is one largely overlooked by mainstream media and in some respects, history. What made you want to tackle it?
Paul: Magpie has been a passion project for both Carmel (writer & director) and Paul (director of photography) for almost 3 years now. It grew from an original story that Carmel created just after graduating from university and subsequently became a story far closer to her own family history than she had ever thought. As a keen family historian, Carmel has been researching and documenting her family history for many months.
By delving deeper into her grandmother's life during the war, she uncovered similar stories within her own family. While growing up in Norwich, Carmel's grandmother Sheila lived with her brother and mother in their Aunt and Uncle's house. Their cousin, Dorothy, fell in love with a G.I from the local airbase at Hardwick and they were later married. Meanwhile, Sheila's mother gave birth to a baby boy that neither Sheila nor her brother knew about until their mother passed away in 1992 and they discovered a birth certificate. There is no Father listed on the birth certificate, which is one mystery that will never be solved, although this conjures up many stories – could she have had an affair with one of the G.Is who often frequented the house? a similar fate that befalls the film's protagonist Lily.
Further research into the wider social issues of the period found that the subject of Post Traumatic Stress Disorder (known commonly and colloquially as 'shell shock' in the 1940s) was greatly misinterpreted and rarely explored in popular culture.
The film aims to raise awareness of PTSD and explore the stories of those that lived in East Anglia during World War II.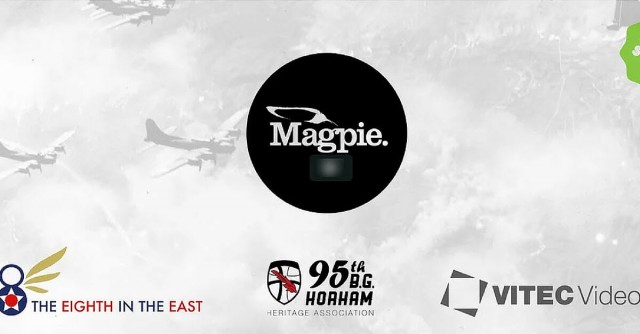 I've heard a lot of stories similar to Dorothy's, in fact my own Great-Aunt was supposedly very friendly with the Americans stationed here! But it almost goes unspoken still, such a huge part of the Second World War largely overlooked in favour of the men on the ground pushing to Berlin. What is it about the American Air Force in East Anglia that made you want to commemorate it on film?
The impact that the Eighth Air Force had on our region was profound, and the lasting legacy of their time here is evident almost everywhere you go. The Magpie team feel that their impact on East Anglia, the area of Britain with the largest concentration of US forces in WWII, is again an area that remains relatively unexplored and should definitely not be forgotten.
Through their involvement with the 95th Bomb Group Heritage Association, Carmel and Paul have spent a lot of time speaking to veterans and veterans' families, hearing numerous first hand accounts of the Americans' time here, and the ways in which the landscape changed not just physically but socially. It is these stories that we need to tell before it's too late. Otherwise, the future generations could grow up believing that WW2 was a war that was fought entirely overseas and will not know of the huge impact that the American forces had on the lives of people who lived in East Anglia.
Absolutely. The impact is still felt in the culture of East Anglia, there are still entire towns shaped by the U.S airbases that remain very much active and have been since the Second World War. Do you think the recent news of a Mighty Eighth based HBO mini series will bring extra attention to Magpie?
We certainly hope so. The next Spielberg-Hanks mini-series promises to be something really special. It will almost certainly focus more on the combat missions of the Eighth Air Force as opposed to their lives here in East Anglia. We would like to think that Magpie will compliment 'Masters of the Air' perhaps filling in some of the gaps, and that interest in the Mighty Eighth would increase and subsequently encourage people to watch Magpie too.
It certainly isn't common for a movie to portray the protagonist as suffering from Post Traumatic Stress Disorder, but it feels more relevant than ever in 2015, with the greater awareness of mental health. Where did the inspiration come from?
We've been incredibly inspired by the stories we've been told face to face by veterans of the 95th and 100th Bomb Groups (based at Horham and Thorpe Abbots) as well as through the accounts documented at many of the museums throughout Suffolk and Norfolk
Much of the screenplay for Magpie has been written based on true stories from Carmel's family history, tales told to her by veterans and taken from letters from 95th servicemen sent back to their families and kindly donated to the museum. The film will aim to remain as faithful to these stories as possible. With the likes of the Eighth in the East and the 95th Bomb Group Heritage Association on board, the film is constantly being developed and researched with this in mind. In our eyes, the smaller, lesser known stories are the most important. Unfortunately, without documentation in popular culture and media accessible to all, they could be forgotten altogether, and we want to preserve as much as possible. We are lucky to have historians on board to chip in with particular expertise. There are very few books published by veterans that tackle PTSD, I suppose the most famous is Ron Kovic's Born on the 4th July. The limited number of Second World War veterans that have spoken out on paper about their post-war sufferings have been a great influence in helping us tell their story and raise awareness of the troubles they silently faced.
We at WHO are very much looking forward to seeing the finished product, thanks Paul!
You can view Magpie's Kickstarter page and donate, if you wish, here: https://www.kickstarter.com/projects/paulcook/magpie
To view the excellent trailer, click here: https://vimeo.com/138606780