An exceptionally unspoiled M4 Sherman tank, the battle tank the Allies primarily used during the Second World War, was salvaged from an area in the Arctic Ocean's Barents Sea near the Russian city of Murmansk Wednesday, July 23.
The well-preserved relic of the M4 Sherman tank was extracted from another wreckage – a US cargo ship sunk during the dying days of the Second World War by a German submarine.
The US-made M4 Sherman tank was aboard the USS Donaldson. The latter was then part of the Arctic convoy JW-65. However, the said ship was torpedoed near the shores of the small Russian island of Kildin by U-boat U968 on the 20th of March, 1945.
The USS Donaldson had been ferrying a total of 7,679 tons general cargo. This included ammunition totaling to 6,000 tons, foodstuffs as well as other vehicles along with the salvaged M4 Sherman. The torpedo had hit the engine room resulting in the deaths of one officer along with two crewmen and the destruction of the engines.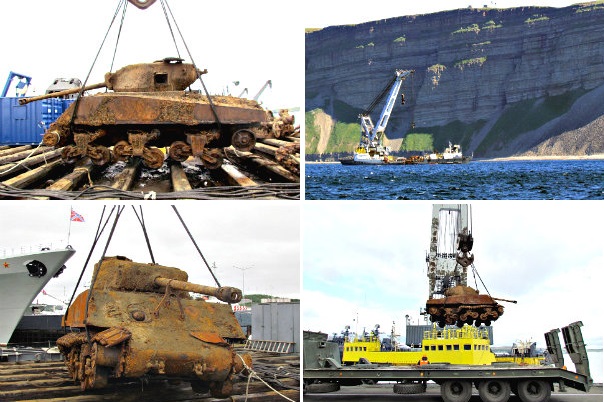 When the torpedo hit the cargo ship, her captain commanded eight officers, twenty-four crewmen and twenty-seven armed guards to go aboard lifeboats and flee to safety. However, he, along with a skeleton crew, risked staying with the ship amidst the possibility that the ammunition she carried might explode. Her captain had hoped USS Donaldson would be towed into port. But then, she sank stern first just half a mile off Kildin Island.
As the divers went off to search the area, they found the cargo ship lying 55 meters deep just near the Russian island. Furthermore, they stated that there are two more tanks on board the cargo ship USS Donaldson. They are hoping that, just like this M4 Sherman, they might be able to bring these war vehicles up.