Due to a new gun law about to take effect in Washington, the Lynden Pioneer Museum started to pull out firearms, numbering to about a dozen, from its World War II exhibit and return them to their respective owners.
According to the institution on Wednesday, November 19, they are pulling out the borrowed vintage firearms they have on display to comply with the recently passed gun law which states that every gun transfer needs a background check.
Earlier this month, voters from Washington passed the legislation which expanded the background checks on all firearm purchases. The expansion included guns that were sold via shows or online as well as the ones on loan and transfers.
Because of the expansion of the state's gun law, the Lynden Pioneer Museum administration decided to return all the eleven WWII-era guns they have in their exhibit, the Over the Beach: The WWII Pacific Theater, to their owners before the law could take effect this coming December 4.
In a statement, Lynden Pioneer Museum pointed out that they would be in clear violation of the new gun law if the loaned guns, which did not went through the needed background check procedure, are still in their possession.
The statement added that the museum is not trying to make a political statement; the board just doesn't want to risk Lynden Pioneer Museum into being shut down because of the matter.
The WWII-era firearms that were on display in the museum but are being returned to their owners included an anti-tank rifle that was used during the Second World War and a rare Japanese flare pistol.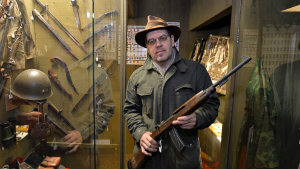 While the new gun law does provide limited exemption [for antiques and family members], the director of the Lynden Pioneer Museum, Troy Luginbill, said that the guns in the exhibit, which were on loan from their individual owners, did not qualify for it.
Aside from the firearms, the said museum exhibit also features vintage military equipment which were used during the war as well as photos, letters and other memorabilia they have collected from WWII vets.