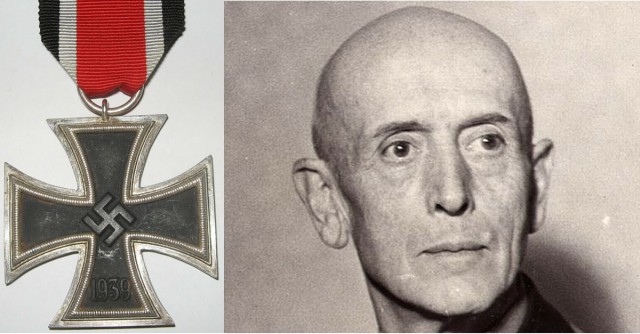 A German World War One Iron Cross is to make its journey home to the soldier who left it behind.
The Iron Cross, the highest German military honour, belonged to Lieutenant Commander Hermann Tholens, a prisoner of war held in Wales during the war. It was during an escape attempt that just before he was captured by British Army officers he took his Iron Cross and pushed it into the hands of child who was being pushed along in a pram as he walked past.
The one year old child was Beti Jones and since her family discovered the Iron Cross they kept it in the family and have passed it down through the generations. Now the family wants to return the Iron Cross to the soldier's family.
Tholens was being held at a prisoner of war camp at Denbighshire in North Wales, however he escaped and was attempting to get to the coast of Llandudno where a U-Boat was going to meet him and pick him up.
Tholens missed the pick-up and when he realised he was stuck on the British mainland he quickly disposed of his Iron Cross, giving it to Beti, since he knew it would be taken away for good when he was caught again.
It was not until later that Laura, Beti's mother, found the Iron Cross in Beti's arms. She kept the cross in a safe place and now Beti's granddaughter, Sarah has discovered the cross and the story behind it. She is now trying to find Tholens' family so that she can return the Iron Cross to them, the Mirror reports.
Sarah says that even though the cross has been in her family for so long, it is another family's history and that she wants to return it to them. She would also like to find out about Tholens from his own family.
Tholens was a commander on the World War One battle cruiser the Mainz. He was captured by British forces during the Battle of Heligoland in the Baltics at the beginning of the war. Tholens' escape attempt was part of a plan with two other German soldiers. All three escaped, missed the U-Boat and so took their way to get a train to London.
But when Tholens realised it was going to be very difficult to escape, he handed himself in to the police, before they got on the train. It was on the way to hand himself in that he gave his Iron Cross to Beti.
All three were imprisoned until being sent back to Germany at the end of the war. Tholens did later join the Nazis. He survived both World Wars and died in 1967.