It was referred to as the 'wooden wonder' among other names, yet the deHavilland Mosquito was a superb multi-task aircraft. It was used for photo-reconnaissance, in addition to fighter and bomber roles.
One of those legendary airplanes is under restoration at the Flying Heritage Collection at Paine Field, not far distant from Everett, WA. Currently, the wings, propellers, control cables, engines, and fuselage are spread out in the hanger as work continues.
More than 7,700 of these planes were made over the course of the war. Three at most are still airworthy, including the one at Paine Field.
It arrived in December after years of rebuilding in New Zealand. The aircraft is expected to fly in the spring after it's been painted to match the original 1940s appearance.
There was a time when there were no flying Mosquitoes, said Cory Graff, the museum's military aviation curator.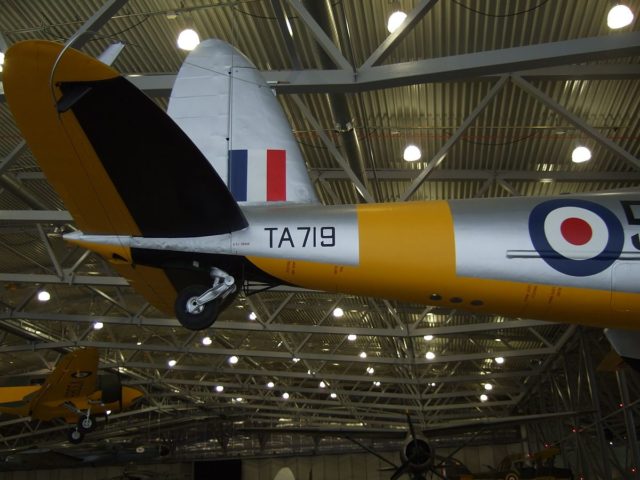 A crash in 1966 during an airshow in England destroyed the only airworthy Mosquito at the time.  The navigator and pilot both died.  Looking at it from a distance, the airplane looks like it's built of metal, typical of the planes from the WWII era.  It was built in 1945 and assigned to several RAF units for testing and pilot training, for almost two decades.  After the RAF retired all Mosquitoes in 1963, it was still flying.
Former RAF pilot David Ogilvy lamented the Mosquito's passage, writing in Flight magazine: "…flying has lost its salt and the Mosquito was about the last real airplane to wear red, white and blue roundels," the insignia of the RAF. "It cut you firmly down to size, but it also made mice into men – and pilots."
It was put into storage in the early 1990s, HeraldNet reported.
Even though it had been in a museum for decades, the Mosquito was in many ways a complete restoration, Graff said.
Subsequently, the historical bird was sent to Avspecs, Inc. in New Zealand, where it was restored.  Following many decades of idleness, it flew again in September.