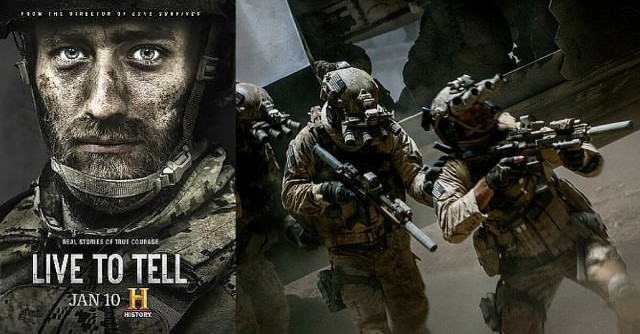 A new documentary series called Live to Tell has been authorized to go into production by the History Channel. It will give real-life, first person stories of US Special Operations that have been taking place since the war on terror began back in 2001, after the 9/11 attacks.
The idea for the series came about from Peter Berg's "Film 45" production project, and eight one-hour long episodes have now been commissioned by History. The first of the series is due to air on Sunday, January 10, 2016 at 10 pm in the U.S.
Since 2001, the Army Rangers, the Navy Seals and the Green Berets have been fighting the War on Terror. It remains the longest war in American history. For the past 15 years, they have been at the tip of the spear, honorably risking their lives for their country and one another. "Live to Tell" is a harrowing and impactful portrayal of the triumphs and sacrifices the United States Special Operations Forces have endured on the battlefields of Afghanistan and Iraq. Driven by first person storytelling, archival footage and original cinematic sequences, each episode is a visceral perspective of the human experience of war.
"Live to Tell" will feature the stories of Charlie Platoon and the story of Marc Lee:
The Red Wings Recovery – the Army Rangers recovery story of Marcus Luttrell, the United States Navy SEAL which the 2013 film, Lone Survivor, was based off of;
A Battle for Haditha Dam – a strategically key location in Operation Iraqi Freedom;
Task Force Merrill –a team of U.S. Army Rangers that set out on a mission to engage the Taliban and gather intelligence; Roberts Ridge – a quick reaction force of U.S. Army Rangers that endured the snowy mountains of Afghanistan to rescue a missing Navy SEAL;
Objective Breton – a group of U.S. Army Rangers who went after a jihadist network; Ranger Machine – in Iraq in 2006, a team of U.S. Army Rangers lead a covert operation to take out a group of Al-Qaeda high value targets;
The Green Berets of 7115 – a group of Special Forces got ambushed by Taliban fighters and had to fight their way to safety after a teammate is critically shot.
Peter Berg's production companies have been responsible for many successful films and TV shows including Friday Night Lights and Lone Survivor. Matt Goldberg and Brandon Carroll will be executive producers on the project alongside Berg, and they will work in tandem with History Channel's Matt Ginsburg and Paul Cabana.
Trailer:
https://www.youtube.com/watch?v=b0ub__DgHR8