The Civil War was long ago, but there are living people that remember meeting veterans of that war in their schools and town squares when they were children.
On what was then called "Decoration Day" and is now our modern Memorial Day, Civil War veterans would be invited to speak to children and townspeople and to tell stories of their time at war. These appearances were common at the turn of the century and dwindled in the 1940s and 1950s as the last of the soldiers passed on.
According to the book The Civil War Veteran: A Historical Reader, these visits were in part a response to textbooks that glorified the patriotism of the Southern soldier and portrayed Union soldier as a penniless immigrant drafted into war. "In Wisconsin, for example, several posts instituted 'children's campfires' where veterans related the Union version of the war to young people; in Chippewa Falls, members were detailed to visit schools on Memorial Day. In Philadelphia, Post 2 members invited high school classes to visit the post hall, tried to institute a series of lectures by post members in area schools, and designated their own committee to deal with patriotic instruction."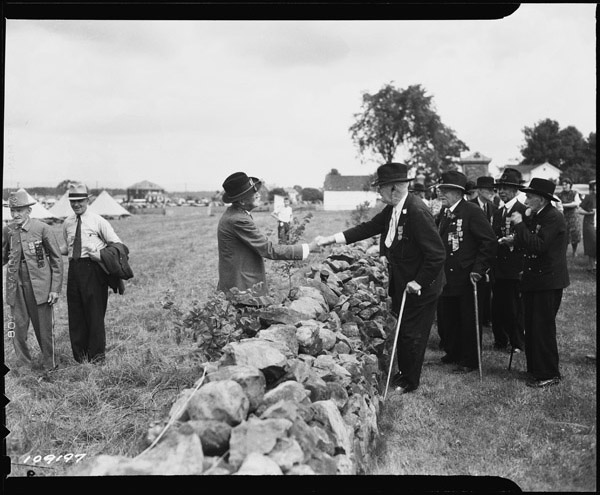 Many soldiers saw these visits as an opportunity to instill patriotic values in the youth of the nation. Prior to "Old Soldier's Day" in Lawrence, KS in 1913, the post commander sent this message to the area veterans: "Comrades and Sisters: Allow me in all sincerity to call your attention to the importance of fulfilling the above detail by presenting yourselves at the respective schools assigned.
In so doing, marvelous results, and stronger influences may arise in the future that will benefit mankind in general, depending largely on the instruction we give to the rising generation, regarding patriotism, loyalty and devotion to their 'Country's Flag, Old Glory,' the pride of the boys in blue, saved and protected, by us, living veterans and the heroic dead of the civil war."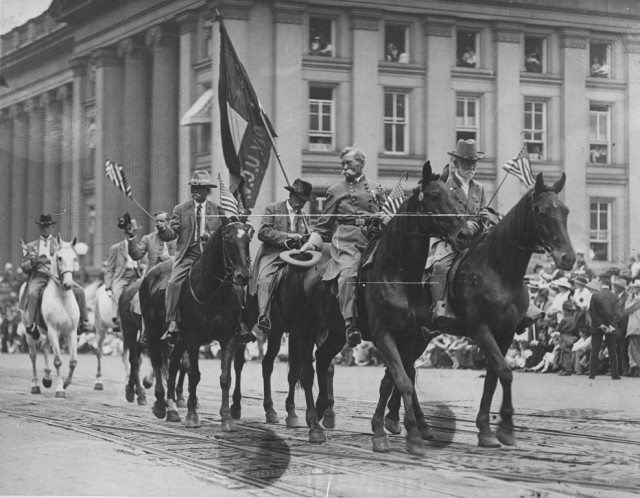 Making these visits was sometimes hard on the veterans in their old age. The Berkeley Daily Gazette from February 7, 1925 reported that veterans of Lookout Mountain Post 88 would be visiting a limited number of schools on Lincoln Day. They were to give speeches about Lincoln, but though they had visited all schools previously, there were not enough of them alive and able bodied to do so anymore. According to a 2008 article in The Berkeley Daily Planet, the last post member died in 1939.
Author William D. Kaufman remembers in his book, The Day My Mother Cried, these visits from his childhood. "I also wrote about my friendship with a Civil War Veteran who visited our school before Memorial Day when I was in the sixth grade. He told us how he lost his arm in the Battle of Bull Run and that he shook the hand of Abraham Lincoln in the field hospital in Gettysburg and that 'the President cried'."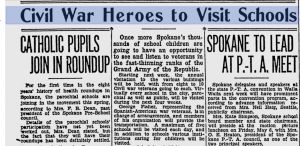 Women that served the soldiers during the war were also sometimes included as speakers. Kaufman details in his book that among the speakers one year at his school was a very old woman in a wheelchair. She had left her sick husband and three children at home when Lincoln pleaded for volunteer nurses, and went to Gettysburg where she worked amputating limbs. Her daughter spoke for her at the assembly and said "There wasn't a night in Gettysburg that 'Mama didn't fall asleep on a pillow soaked through and through with tears.'"
The stories and speeches given by the veterans varied. Some told of great adventure, some made educational speeches, and others told stories of how they felt and what atrocities they suffered. During the 1914 visit of "Old Soldiers" to Lawrence, KS schools, "Mr. Cone told of the flag that was sent to his regiment by the women of Lawrence . . . returned in a tattered condition . . . Mr. Hunnicut told how all wars came about . . . the result of the oppression of the less fortunate by the more fortunate people. A. G. Alrich . . . told of the historical setting that led up to the writing of 'The Star Spangled Banner."