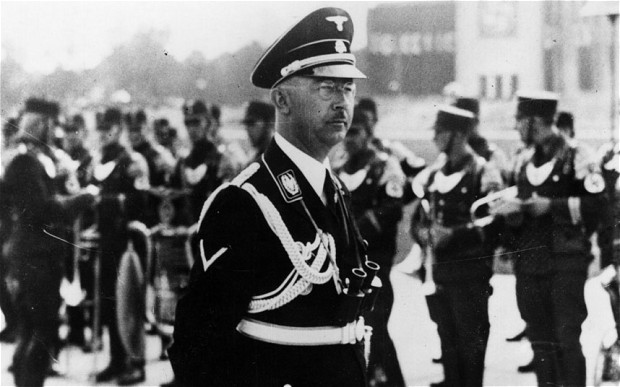 Germany's Die Welt wishes to publish Heinrich Himmler's letters to his wife.
Himmler's letters to his wife were not just love letters, but they also documented the rise and the fall of the Nazi regime. It's been claimed that these documents will be made public.
Hundreds of the SS commander's private letters, notes, and photographs from 1927 up until 5 weeks before his suicide in 1945 have been collected, the Telegraph reports.
The "Architect" of the Holocaust met his wife, Marga, in 1927. At the time, she ran a nursing home in Berlin. The letters detailed the early stages of their relationship. Himmler affectionately signed the letters with "Dein Heini" (Your Heini).
The letters between man and wife also confirms the "not-so-glamorous private life of the Himmler Family".
The couple's relationship began to crumble in 1938 and continued onward. Himmler was carrying on an affair with his private secretary, contrary to what biographers say, he remained in contact with his wife and also wrote to his daughter several times. With those letters, he closed them with "Euer Pappi" (Your Daddy).
The collection of letters once belonged to an Israeli family, but they are now in a vault in Tel Aviv. The letters detailed Himmler's "immeasurable anti-Semitism and his obsessiveness" and are expected to provide a remarkable insight into the Nazi regime.
German historian, Michael Wild, described the find as a "dense body of private documents. There is nothing like it for any other member of the Nazi leadership."
The documents were taken by a US soldier from a safe in the Himmler family home when Himmler committed suicide. It is unknown how the letters ended up in Israel though.
Die Welt stated the letters had been independently verified, quoting Michael Hollmann, the president of the German Federal Archive, as stating: "We are sure about these documents. There is no reason to doubt the authenticity of the documents in Tel Aviv."
There was a multi-million pound purchase of Hitler's journals in the 80s. This was later shown as an elaborate hoax, but Hermann Goring, his deputy, left virtually no person records. The diaries of Joseph Goebbels, the propaganda minister, often focused on his own importance and projects.
"The documents do not change the overall picture of the Nazi reign of terror, but they certainly add countless previously unknown details and help [give] a better idea of what type of person the SS leader was, his everyday life and his surroundings," according to Die Welt.