With a legacy that stretches back to November 10, 1775, it takes a lot for any marine to be awarded the title "legend." For the man who held every enlisted and officer rank except Sergeant Major and General – the title aptly fits. Joining the Marine Corps in 1950, Wesley Fox began a career as a Private that took him all the way to Colonel during 43 years of service.
In February 1969 deep in the jungles of Vietnam, the legend grew exponentially. While serving as a First Lieutenant, his company came under a massive attack from a numerically superior force. Wounded during the initial assault, Fox found himself the only officer capable of organizing the defense. He destroyed an enemy emplacement and began directing his company to take out the rest. Calling in airstrikes while maneuvering under heavy fire, Fox was credited with inspiring his Marines to defend. He was wounded during the final assault but refused medical treatment so he could continue to rally his Marines. For his actions, he received the Medal of Honor and remained in a career that lasted until he was forced to retire as a Colonel at the mandatory age of 62.
Born for the Corps
Wesley Fox was born in 1931 in Virginia, the oldest of ten siblings. Perhaps it was his upbringing among his brothers and sisters, but Fox from an early age was never known to shun a fight. Having watched the Marine Corps storm across the Pacific in his early teens, Fox knew he wanted his chance to serve and live up to that legacy. Shortly after North Korea invaded South Korea in 1950, Fox earned his first taste of combat. Having enlisted in the Marine Corps at the age of 18, by 1951 he was serving as a rifleman with the 3rd Battalion, 5th Marines.
In the brutal fighting of the Korean War, Fox was wounded and earned his first Purple Heart as well as the Bronze Star with a Combat "V." In a military culture living off the legends of WWII in the Pacific, Fox was working to build a new legacy showing that Marines of any generation were up for the fight at hand.
By 1954, he was back in Korea for peacetime duty. Over the following years, he rose through the ranks of the enlisted Marines. He served tours as a drill instructor and a recruiter before becoming a First Sergeant in the US Marine Corps. In 1966 the well-respected Marine became an officer.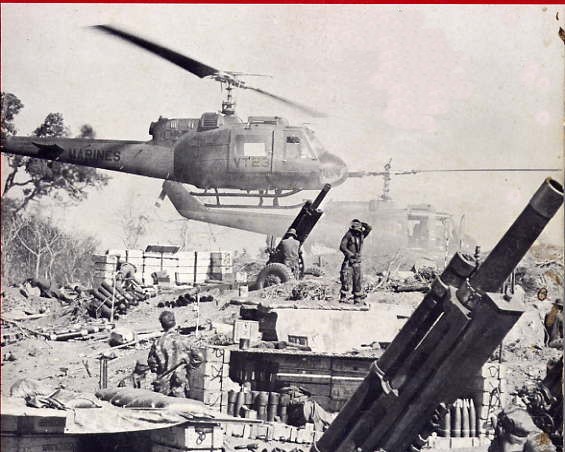 From One War to the Next
By 1967, Fox was immersed in the Vietnam War as a Lieutenant with a Marine Infantry Company. Usually, enlisted Marines were wary of a Lieutenant taking charge of a company in the middle of a conflict. But the fact that this Lieutenant was a combat experienced veteran of over 17 years put their minds at ease. Fox took charge of Company A 1st Battalion, 9th Marines and did not disappoint those left in his charge.
In 1969, Fox and his Company were embroiled in the midst of Operation Dewey Canyon. It was the last major offensive for the Marine Corps in the Vietnam War and represented a show of power, force, and Marine grit. On February 22, 1969, Fox and his Company were in the thick of it – fighting off a larger force of North Vietnamese determined to reject the Marine offensive.
The day started with Fox and his Company of Marines being assaulted from a well-concealed and entrenched network of North Vietnamese soldiers. With the poise and resolve expected from a veteran, Fox moved to assess the situation and gathered his platoon leaders for action. After briefing them on the task at hand, the command group was struck by heavy fire resulting in wounds to Fox and nearly his entire leadership team. With unwavering courage, Fox instantly rallied his men and took action to destroy an enemy position himself.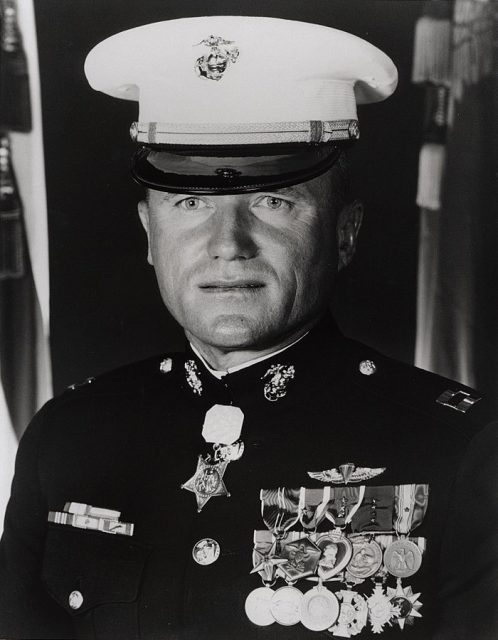 Building a Legend
As the heavy enemy fire continued to rage around him, Fox shouted directions and encouragement to his men. While organizing and calling in fire missions for the supporting aircraft, the Executive Officer for the company was mortally wounded leaving Fox as the only officer still in the fight. He continued to move from one position to the next directing fire for his Marines with almost blatant disregard for his own life.
As the enemy rallied for their final charge, Fox was again wounded. Refusing medical treatment to organize the defense, Fox stayed in the fight as his men pushed the enemy into retreat. When day gave way to evening, Wesley Fox and his Marines were still in charge of their assigned real estate.
For his actions that day, Fox received the Medal of Honor. However, it was not the end of his storied career. Fox remained a Marine Officer for over 20 more years rising to the rank of Colonel.
The man who first enlisted as a Private to see action in the Korean War finally retired after 43 years of active service. For Fox, it was not his service in Korea and Vietnam that sidelined him but rather his age as he was forced to retire at the required age of 62.
His legend extended from the Korean War through to the First Gulf War, but for those with whom he served, there is no doubt that Colonel Wesley Fox deserves his rightful place in Marine Corps history.