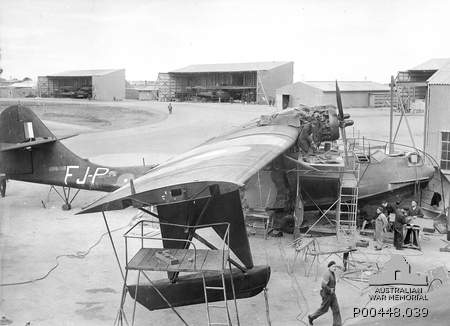 [Via]
The nature of the Second World War was such that every nation and empire involved in the conflict threw in everything everything to win the war. When we discuss the Pacific theatre of the war, mostly the US and Japan came to mind, but the role of Australia is nevertheless quiet significant. Especially the Royal Australian Air Force played a very critical and decisive role in battling the Imperial Japanese Navy. Every Australian Second World War veteran is familiar with 'flying boats' or as they were sometimes referred to as 'black cats'. The Catalina or the flying boats are to Australia as Spitfires are for Britain.
These massive flying boats did a variety of jobs to help serve the allied cause in the Pacific. Initially the Catalina were utilized by the Royal Australian Air Force to deliver coast watchers in to the Japanese controlled territory. A large part of the war for the Catalina was to carry out reconnaissance missions over Pacific, alerting the Naval battleships to the presence of the incoming Japanese ships. However, the most legendary mission that Catalina airmen undertook during the Second World War in the Pacific was to plant deep sea mines to restrict the Imperial Japanese movements across Pacific.
The Catalina base in the Lake Boga is one of the longest secrets kept during the Second World War. After experiencing the lethal effectiveness of the Catalina's deep waters mines, Japanese aircrafts conducted a number of successful bombing raids over some of the major Catalina bases in Darwin and Broome in 1942 in which a large number of flying boats were destroyed. It was around that time that RAAF decided to build a Catalina base practically out of the Japanese bombing range. On top of that an elaborated plan was laid out to make sure the location of the base was kept secret in order to successfully carry on the mining mission. The Lake Boga base was set up to repair a large number of flying boats arriving from New Zealand and United States, which were then used to carry out bombing campaigns throughout the war.
Australian veterans of the Second World War had always been urging to highlight the importance of the Catalina operations and Lake Boga base for public. They argue that Catalina flying boats played an absolute critical role in restricting the Japanese to the waters closer to its own shores hence contributing to an early demise of the empire, the ABC Rural reports.
The Lake Boga base was shut down in 1947, and later the underground bunker used for the communication was transformed into the 'Lake Boga Flying Boat Museum. A WW2 Catalina flying boat has been restored and put in the museum for public viewing, as a memorial for those who served at the base during the war.