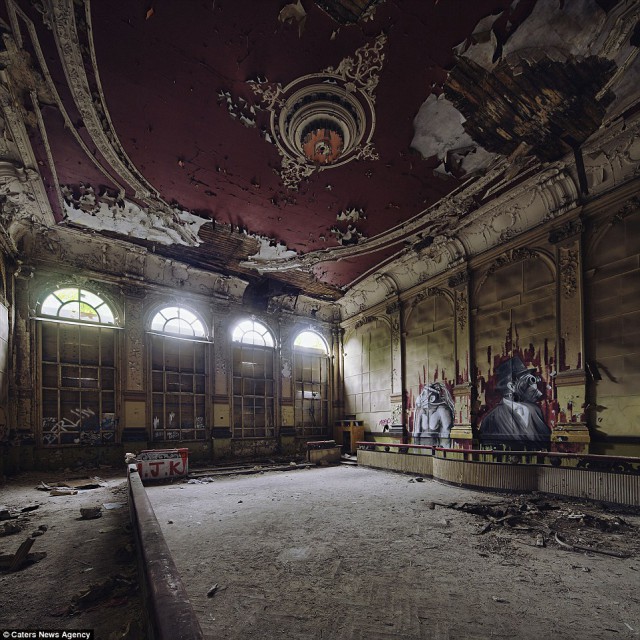 Decades after Hitler and his soldiers fought World War Two and wiped out many Jewish people through its concentration camps, some of the magnificent buildings in use during the Fuhrer's era have been left empty for decades and have now become a shadow of their old glory.
Photographer Daniel Barter, 30, from London travelled to Berlin, the country's capital to capture the sites and the ruins they have become. The buildings in need of work showed lavish theatres, strange sanatoriums and burnt out hotels that have been abandoned. While they have been empty and out of use for so many years – these buildings are still very much present in Europe's biggest economy and powerhouse.
Far from being magnificent in their vintage grandeur, the abandoned music theatres,Hitler's former Youth Training school, and rundown hospitals are nothing like what they used to be during the time they were in use and before Germany lost World War Two.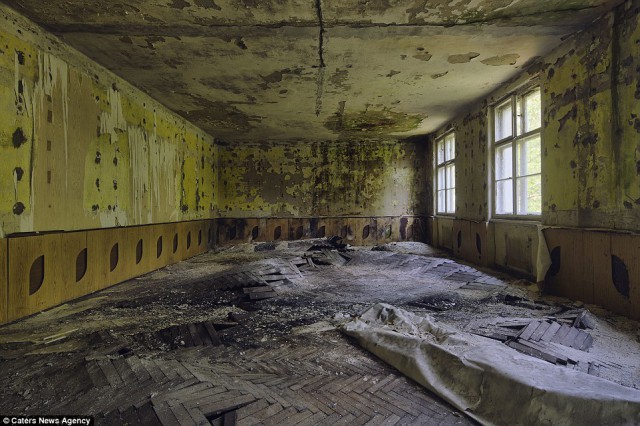 Another photograph shows a driving training centre that was used during Hitler's reign until the Russians took over the place after it was abandoned by the German's on the 26th of April 1945 during World War Two. The parquet flooring on the facility at Krampnitz Kaserne has become damaged and distorteddue to the abandonment and lack of use. Anothor photo shows the flooring of a gym/basket court at the same place (Krampnitz Kaserne) that has become a big pile of rubble.
Majestic German eagle motifs peel off ceilings and concert halls that were designed to accommodate hundreds of guests buthave not been used for hosting any event after World War Two.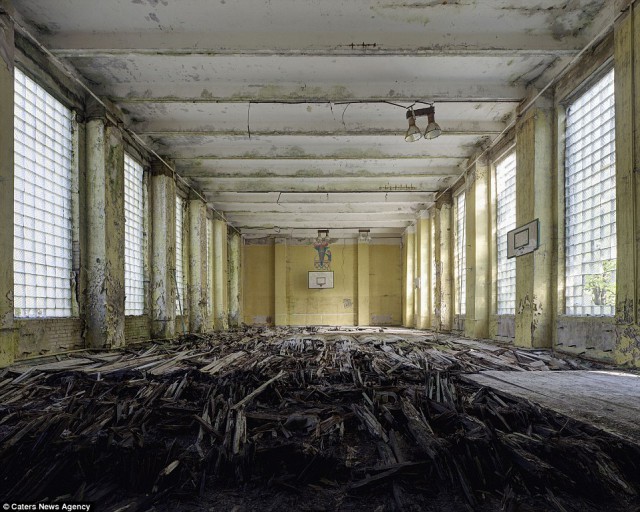 Speaking about his passion for photography and abandonments, Mr Barter said he became a photographer due to his university degree that was in restoration. His interest for shooting abandoned properties however, started when he was very young, he added.
He then talked about how he and two of his friend scaled over a 10 feet fence that was made of green wire mesh in order to enter a plane that was deserted in an adjacent field to his school while he was 5 years old and in junior school. Talking about the plane, he said he can still smell the leather, and picture the switches and dials when he closes his eyes.
On how he discovers abandoned properties to photograph, he said it is through conducting a little bit of research or relying on word of mouth from those who are aware of such properties.
According to him, gaining entrance to some of the locations can be tricky. It can be a combination of climbing, sneaking and hiding, the Mail Online reports.
On what he enjoys most about taking photographs of deserted buildings in the Germany, Mr Barter said it is the rattle between the conflicting ideologies that the region was dominated with during the mid and late 20th century. Speaking about its uniqueness and how it affected and still continues to affect the material fabrics of deserted properties after World War Two, he said there is nothing compared to it around the world.