On Wednesday, the US Senate unanimously voted to promote Lieutenant General Laura J. Richardson to the rank of four-star general and become the next commander of the U.S. Southern Command. This will make Richardson the second woman in history to become a four-star general. President Joe Biden nominated Richardson for this role back in March 2021.
Richardson is the current commanding general of United States Army North but is due to transfer to commanding SOUTHCOM after receiving her fourth star. Known as an exceptional leader and member of the US Armed Forces, prior to commanding the United States Army North she was the deputy commander of the United States Army Forces Command.
She was selected for that role by General Robert B. Abrams, a decision he said took "less than a second" to make despite not knowing her personally. Abrams said "I know her reputation. I've seen her work… She's the exact right leader at the exact right time."
Richardson will take over command of SOUTHCOM from Navy Admiral Craig Faller at a yet-unspecified date. Faller has commanded SOUTHCOM since late 2018.
United States South Command is based in Doral, Florida in Greater Miami and is responsible for military operations and cooperation in the South American region. It also covers Central America and the Caribbean.
Those leading the command have historically dealt with a wide range of social and environmental issues, like issuing humanitarian and disaster relief and combating the narcotics trade and human trafficking common in the region. The region has also been hit hard by the COVID-19 pandemic.
Richardson will assume responsibility for these complex issues but will need to ensure the US remains a dominant player in the region, as China and Russia have both been making moves in the area recently, likely in a bid to extend their influence in the West.
Despite the challenges ahead, Richardson is ready to tackle them, informing senators at Capitol Hill last week that her initial goals include cooperation missions with nations in the region, increasing training exercises, and providing opportunities for local nations to train with the US.
"We must hasten to pick up the pieces left by the pandemic and transform our relationships to meet 21st-century security challenges. Put simply, winning together with our allies and partners matters," Richardson said. "Whether [it is working] against [the coronavirus], transnational criminal organizations, the predatory actions of China, the malign influence of Russia, or natural disasters, there's nothing we cannot overcome or achieve through an integrated response with our interagency allies and partners."
Lieutenant General Laura J. Richardson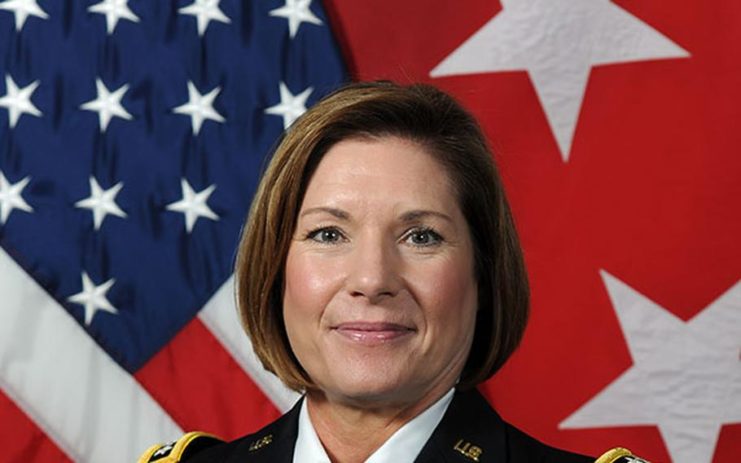 Born to a teacher and a physician in December of 1963, Richardson would quickly rack up a long list of achievements at a young age. She earned a bachelor of science degree in psychology at the Metropolitan State College in Denver and was an All-American swimmer. By the age of 16, she had already received her pilot's license.
Richardson was commissioned into the Army in 1986 via the Army Reserve Officers' Training Corps program and flew UH-60 Black Hawks. Over the next decade, she would serve as an administrative officer, executive officer, platoon leader, assistant logistics officer, personnel officer, and company commander. By 2001 she was the deputy operations officer of the 101st Airborne Division, later commanding a 101st Airborne Division aviation battalion in Iraq.
She continued to climb through the ranks of the US military, taking command of U.S. Army North at Joint Base San Antonio in July 2019.
Richardson's promotion
Richardson's promotion marks the second time a woman has reached such a position, but another woman may soon become the third to do so.
President Biden has nominated Jacqueline Van Ovost to lead the U.S. Transportation Command.
Both Richardson and Ovost were nominated for these promotions during the Trump administration by officials at the Pentagon, but the process was delayed by former Defense Secretary Mark Esper and chairman of the Joint Chiefs of Staff General Mark Milley. Esper and Milley aimed to delay the promotions until after the 2020 presidential elections as they feared the two women may have been denied them by the White House due to their gender.
"They were chosen because they were the best officers for the jobs, and I didn't want their promotions derailed because someone in the Trump White House saw that I recommended them or thought [the Defense Department] was playing politics," Esper confirmed in February. "This was not the case. They were the best qualified. We were doing the right thing."