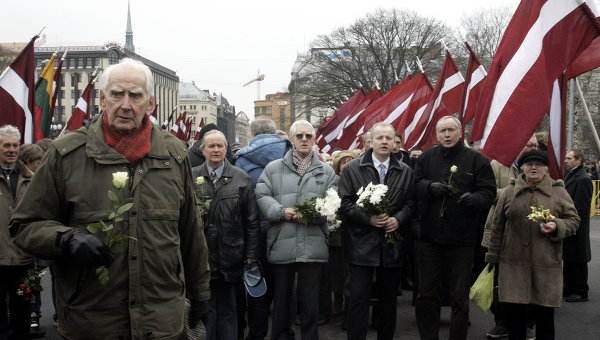 The Legionnaires Day was abolished by the Latvian government in 2000. Yet, this did not stop around 1,500 Latvians from marching Sunday last week to pay tribute to the World War II veterans who fought alongside their Nazi allies.
A church service was held in the Lutheran Cathedral in Riga, the capital. After, the marchers then proceeded to the Freedom Monument. There, they offered red and white roses to symbolize the Latvian flag. The celebration was under the close watch of many police and security guards to the ire of the marchers.
Meanwhile, a few of the anti-fascists block also held their demonstration. They are mostly from the Russian-speaking minority of Germany and Latvia. They protested at a nearby park staying behind the barricades set by the police and shouting, "Shame!" and "Fascism will never end!"
The presence of the police and the cold, windy weather helped keep the underlying tensions at bay during the annual event. The celebration usually helped sparked the ethnic animosity between Latvians and minority Russians. The police had already arrested seven people for minor offenses.
Former Environment Minister Einars Cilinskis of the right-wing National Alliance defied orders of Prime Minister Laimdota Staujuma not to attend the march. He was dismissed last Friday after coming forward to support the Latvian march and issuing a declaration that he would participate in the procession.
The Simon Wiesenthal Center, a Jewish human rights organization, denounced the march. The group also supported the dismissal of Cilinskis.
"We welcome the steps taken by the Latvian government against the minister who indicated his intention to participate in the march," the group said in a statement. Latvia gained independence after World War I. In 1940, the country was occupied by the Soviet Union. A year after that, Nazi Germany ousted the Soviets and occupied Latvia. In 1944, the Soviets again occupied Latvia after defeating Nazis. After almost five years of Soviet occupation, the country was able to declare its independence in 1991. Soviet Union was then on the verge of collapse.
Around 250,000 Latvians joined the war and fought on both the German and Soviet side. Of these, about 150,000 Latvians died in the war. Nearly 80,000 Jews were reportedly killed in only two years, 1941 to 1942. This composed of 90 percent of the Jewish population before the war. The hunting of the Jews mostly happened two years before the creation of the Latvian Waffen SS Unit leading some Latvians to claim that the unit could not have any participation in the Holocaust.
Many of the Latvians celebrate the Legionnaires Day in honor of the war veterans. The ethnic Russians however see it in a very contrasting light. The Russians who are about one-third of the Latvian population treat the celebration as glorifying fascism.
The Seattle Pi reports that Latvia has around 2.3 million population.