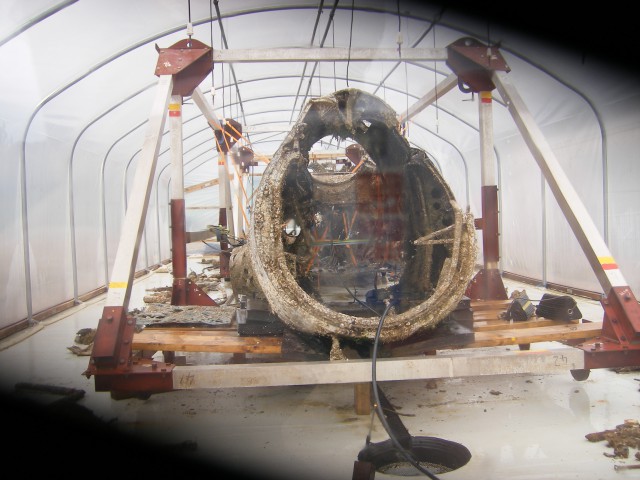 [Via]
The last remaining German Luftwaffe Dornier 17 bomber aircraft is being restored after 70 years of being hidden away.
The bomber had crash landed in the ocean during World War Two and ended up sinking to the ocean bed. Then two years ago a salvage rescue mission was put together to retrieve the bomber for complete restoration.
The wreck was salvaged from Goodwin Sands in Kent where it is thought that the plane went down in August of 1940. A group of engineers are now using innovative restoration and preservation techniques to return the bomber to its former glory.
John Warburton, an aircraft technician, is leading the effort to restore the Luftwaffe's World War Two Dornier 17 bomber. The aircraft was taken to the Royal Air Force Museum at Cosford in the UK and has been under restoration ever since.
It is thought that the Dornier was used by the Luftwaffe during the Battle of Britain in 1940. Records show that the aircraft was part of the 7th Squadron, 3rd Gruppe, Bomber Wing 3 in the Luftwaffe. It would have taken off from St Trond air base in Belgium, which was at the time occupied by the Germans. Today the Dornier is the only surviving aircraft of its kind and so World War Two historians and enthusiasts are keen to get the aircraft back to working order.
The wreck emerged from the sea bed battered and rusted, but the recovery team is determined to fully restore it. In its heyday, the Dornier would have carried more than 16 pounds of bombs and was commissioned to take part in a raid to destroy the RAF's Fighter Command at Manston in Kent. But the raid was a rouse to get RAF aircraft into the air to counter-attack, while German fighter planes would be on their way to shoot them down, The Telegraph reports.
The Dornier crashed with four air crew aboard: Pilot Willi Effmert, 24 and from Hanover, observer, Hermann Ritzel, 21 and from Frankfurt, radio operator Helmut Reinhardt, 27 and from Bochum, and flight engineer Heinz Huhn, 21 and from Lotterfeld in Prussia.
As the Luftwaffe mission advanced on England the RAF's early warning systems picked up the incoming attack. The RAF launched its 264 Squadron to counter the attack over Herne Bay. One of the RAF pilots who took part in the counter-attack remembers seeing the incoming Dorniers as they approached the English coast line. Mr Hughes says he remembers small black dots in the distance growing to long shadows of the Dornier 17s as they got closer.  The RAF crews gunned down two of the German Dorniers, one of which is thought to be the now recovered aircraft.