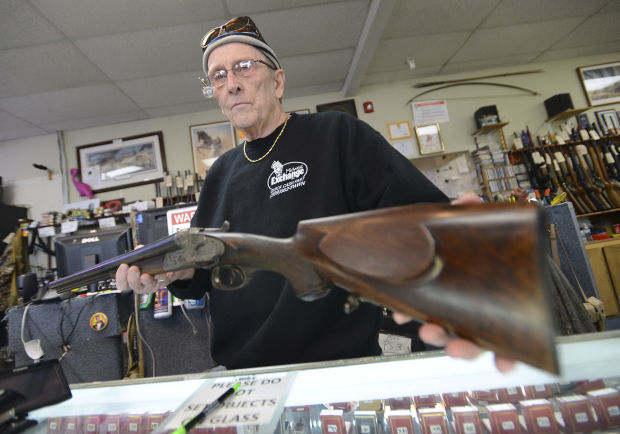 A Krieghoff Drilling shotgun, which is believed to have been presented to Adolf Hitler in 1934, is being auctioned for sale. The gun was last auctioned in 2006 when it sold for US $140,000.
Researchers have investigated the authenticity of the shotgun and believe it to be traceable back to Adolf Hitler. They believe it was given to Hitler as a gift by the gun-maker itself, Kreighoff, prior to the war. The shotgun has the initials A.H. engraved on its side. After the Nazis surrendered, the gun was taken from Hitler's Bavarian retreat, known as the Berghof, by Allied troops. Eventually after changing hands several times, it turned up in a veteran's belongings after he had died.
The auctioneers hope the sale of the gun will do some good. They acknowledge that its sale is controversial, however, they hope that whatever money it raises, the seller will be able to donate some money to a good cause.The auctioneer, Wagman, is a US Army veteran and says he would like to donate some of the proceeds to the Disabled American Veterans. It is hoped that the gun will be sold to someone who is interested in the history of the artefact and will go into a private collection.
Hitler's Berghof mountain retreat, which was where the gun was found, is located in the Berchtesgarden area of Obersalzberg. The entire area was bought by the Nazi party in the 1920s specifically for the enjoyment of the party's senior leadership. The area was also home to Germany's Chancellery, so it became a key target for the Allied offensive during the war. It was developed to house the senior officials of the Nazi party with the railway station even having a specific reception room for Hitler, the Pantagraph.com reports.
The local Berchtesgadener Hof Hotel was infamous with visitors including Eva Braun, Rommel, Goebbels and Himmler. British Prime Minister, Neville Chamberlain, also stayed at the hotel when he attended negotiations with the Nazi regime prior to the war.
The majority of Nazi development, including Hitler's Berghof and the hotel, were demolished after the war. The Krieghoff Drilling shotgun is a double-barrelled shotgun with a rifle barrel. The company, which still makes guns today around the world, has been in business for generations. Its guns are used by hunting enthusiasts and those who work in forest environments.