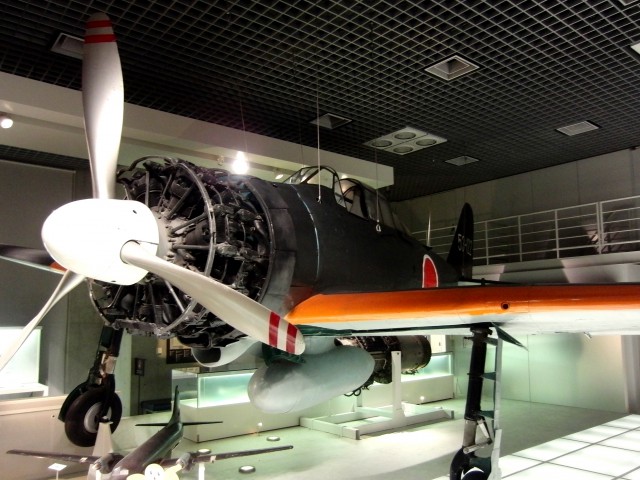 [Via]
The Japanese Zero fighter plane was a Japanese-made aircraft and was the icon of the Japanese Imperial Navy throughout World War Two. Now one of the original Zero fighter aircraft has been restored to its former flying condition and will be flown over Japan for the first time in 70 years.
The aircraft was discovered back in the 1970s after it had crashed in Papua New Guinea during the war. Since 2008 a project called Zero Enterprise has spent years renovating and repairing the fighter in Anchorage, Alaska. Now that the plane is finished it is being shipped back to Japan for its inaugural flight.
The organisers are finalising the paperwork with Japan's transport department in order to ensure it is legally able to fly. Images of the Zero fighter plane were used in the making of the war-epic 'Pearl Harbor' which showed the Japanese Imperial Navy make its pre-emptive attack on the United States Navy at anchor in Hawaii.
The project says that it has always been its goal to have the project finished this year in order to commemorate 70 years since the end of World War Two. They are hoping that the paperwork can be finalised quickly so that the Zero fighter can fly this year.
There are only six Zero fighter planes left which are still flying today. A couple of Zero fighters were flown over Japan in the 1970s and 1990s, but they have been the only flights since the end of the war.
The Zero fighter was the work of Japanese company Mitsubishi and at the time was one of the most technologically-advanced aircraft in the world. Over 10,000 Zero fighter planes were built by the Japanese. Journalists writing during the Pearl Harbor attack commented that the Zero fighter had to be one of Japan's greatest advantages over the United States and its allies, The Wall Street Journal reports.
The Zero was built to travel at high speed, whilst being manoeuvrable at the same time. It was achieved by designers leaving out a lot of aluminium protection that other similar aircraft still retained. This made the aircraft more vulnerable, but the Japanese were willing to sacrifice its own men if it meant winning the war.