Over 100,000 Japanese-Americans were moved to internment camps due to an executive order from President Franklin D. Roosevelt which he signed on February 19, 1942.
More than two-thirds of the Japanese-Americans affected by the order were natively born in the US. Out of those, over 13,000 were sent to the Gila River War Relocation Center southeast of Phoenix located on the Gila River Indian Reservation. Over 17,000 went to the other internment camp in Arizona, the Poston Relocation Center in the Colorado Indian Reservation.
They were brought from California on trains. Many of them did not know where they were going. Both of the camps were opened in 1942 and were open for three years.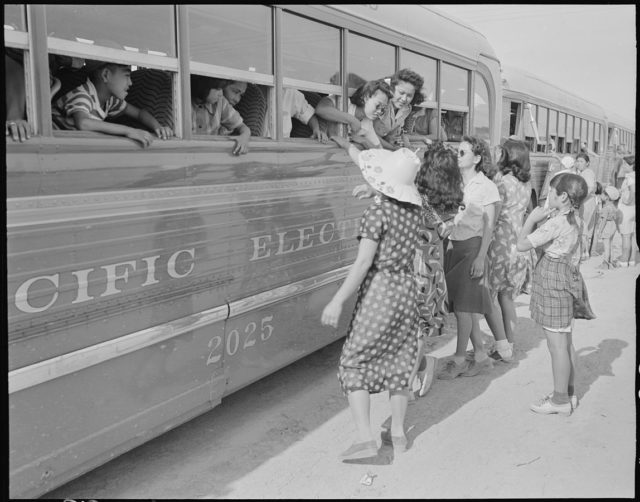 Kenichi Zenimura was a semi-professional baseball player who was sent to the camp in 1942. When he arrived, he was so depressed that he did not open his suitcase for two weeks.
He started building a baseball diamond in December 1942. Other detainees helped out, and the field was completed in March of 1943. He raised funds to buy baseball bats and baseballs and charged an admission fee to help maintain the field. The endeavor brought a sense of normality to the camp. Eventually, they had a 32-team league that saw teams traveling to other camps to play each other.
A kiosk was placed near the site of the Gila River War Relocation Center. It commemorates the story of the internees held there. It resides in Nozomi Park. Originally, the park was to be named West Chandler Park, but vote in the Chandler City Council was in favor of naming it after the Japanese word for hope. The only other Nozomi Park in the world is in Nagasaki, Japan where the US detonated the second atomic bomb which forced the Japanese to surrender and ended World War II.
Both of the Arizona internment camps were located on Indian reservations, but neither tribe approved of their land being used for the camps. Records show that tribal councils opposed treating the Japanese in the same manner the native Americans had been treated. The Bureau of Indian Affairs and the Army overruled the tribes. When Poston closed in 1945, the land was returned to the Colorado River Indian Tribes. The members of the Gila River Indian Community took what they could from camp, but most of the structures were unusable, azcentral reported.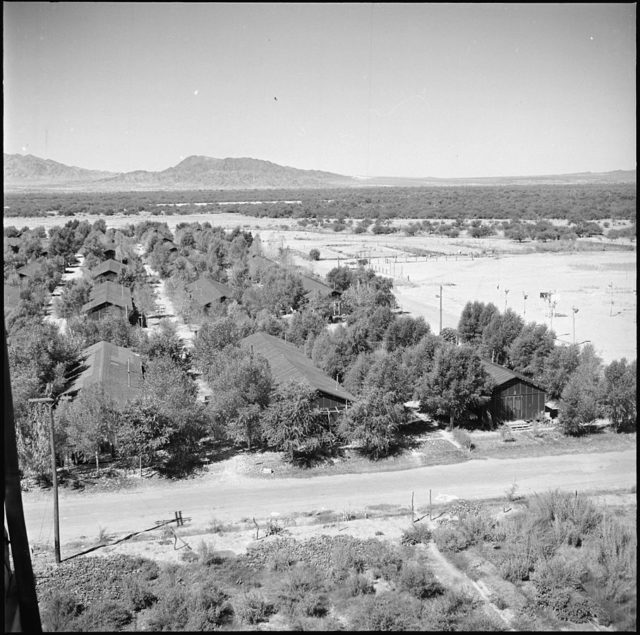 There is not much left of the Gila River War Relocation Center. Some foundations, cisterns and rock alignments are all that are left. The site is closed to the public. A permit is required from the Gila River Indian Community before you can visit. The Poston Relocation Center still has several structures in use today.
The Poston Memorial Monument is a 30-foot tall concrete pillar erected in 1992. The memorial contains this quote: "This memorial is dedicated to all those men, women, and children who suffered countless hardships and indignities at the hands of a nation misguided by wartime hysteria, racial prejudice, and fear. May it serve as a constant reminder of our past so that Americans in the future will never again be denied their constitutional rights and may the remembrance of that experience serve to advance the evolution of the human spirit."