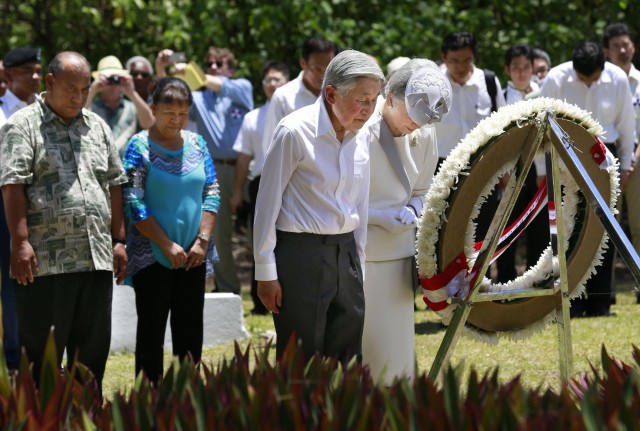 At the beginning of April, the Japanese Emperor and Empress made an official visit to the remote Pacific island of Peleliu in remembrance of hundreds of soldiers who sacrificed their lives for the war effort.
Emperor Akihito and Empress Michiko attended a memorial ceremony, laying flowers at both the Japanese and American memorials.
Peleliu is an island in the western Pacific and is part of the nation of Palau.
Emperor Akihito said that all of those who gave their lives in order to defend their countries are being remembered on the 70th anniversary of the end of World War Two.
He said that the beautiful Pacific islands hold a tragic history.
Emperor Akihito is now 81, but at the time the war was drawing to an end, he was just 11 years old.  During the war, his father, Emperor Hirohito, was in charge of the Japanese forces.
Japanese soldiers were stationed across many of the Pacific islands in order to defend against the advancing American and Allied troops. The battle at Peleliu island lasted around two months and left more than 10,000 Japanese and more than 1,500 American soldiers dead.
A veteran of the battle, Kiyokazu Tsuchida, who is now 95, also made the trip to the island for the official ceremony.
He recounts how, out of 34 remaining Japanese survivors of the battle, he was the only one who was able to make the journey back for the commemoration. He says that his fallen comrades would be happy to see the emperor come to the island and honour their sacrifice.
The search for the remains of missing Japanese soldiers on the island still continues to this day. It is believed that only half of the almost 2.5 million Japanese soldiers who were killed abroad have been recovered. Almost 500,000 of those are thought to have been lost at sea and remain unrecoverable.
The Japanese public has been calling for an expedited search for the war dead, but authorities say that there is simply a lack of records and evidence to show where all of the remains are. The Japanese Prime Minister, Shinzo Abe, has pledged that efforts to recover World War Two remains will be increased, the Today Online reports.
Across the islands of Palau, the remains of around 8,000 soldiers are thought to be still unrecovered.
The emperor and his wife previously made official commemoration visits to Saipan, a key battle site in the Pacific, in 2005, and to the island of Iwo Jima in 1994.